KU and University of Kaohsiung play a friendly baseball match
On Saturday, June 25th, Kansai University warmly welcomed a 29-member baseball team, including a leader representative, from the National University of Kaohsiung, one of our Taiwanese partner universities, and played a friendly match at the Takatsuki campus.
There was concern about whether the game would be able to be held, since it had been raining heavily for the whole week up to the day before the match date; however, members of KU baseball team worked hard on ground maintenance from early morning, and were able to achieve their ambition to play the game with the University of Kaohsiung team.
The high-hitting game was closely fought, but in the end KU prevailed over the University of Kaohsiung with a score of 8 to 7.
After the match, members from both universities exchanged commemorative gifts and took group photographs together, and were able to deepen their mutual ties.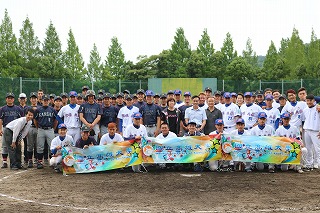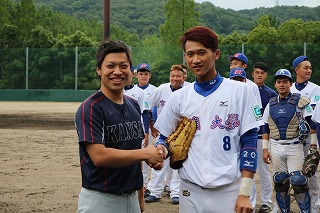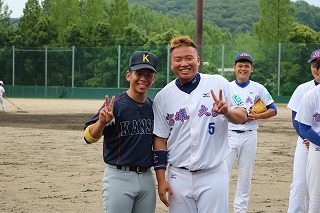 July 04, 2016 10:42 AM UP