Faculty of Law
Department of Law and Politics
The Faculty of law traces its history back to the Meiji period, during which, in 1886, Kansai Law School was founded in Osaka as an evening school, by a group of jurists that included incumbent judges and prosecutors. These founders were all disciples of the French jurist, Dr. Gustave Boissonade de Fontarabie, one of the Meiji government's legal advisers. His instruction had emphasized the importance of disseminating the science of law, for the sake of those citizens who were as yet still unaware of how to employ the law in order to protect their own rights. With this principle in mind, the founders wished to contribute to the modernization of Japan by establishing a law school that would foster the independence of the nation's judiciary, and the protection of human rights. The philosophy of the school was to teach not merely legal practice but also the science of law with a strong emphasis on concern for social justice; and the present Faculty of Law has inherited this philosophy.
In June, 1922, the law school achieved official accreditation with university status. Thus, the infant Kansai University began as an institution comprising just two departments: those of Jurisprudence and Politics. Subsequently, in 1948, following the revision of the University Charter, it was reincorporated as a modern university formed of four faculties: those of Law, Letters, Economics and Commerce. Two years later, the Faculty of Law gained a master's course, which was followed in 1953 by a doctoral course. In 1987 the Institute of Legal Studies was established as an associated institution.
The Faculty of law has the Department of law and Politics, which aims to educate all students in the learning necessary to live in a highly legalized society.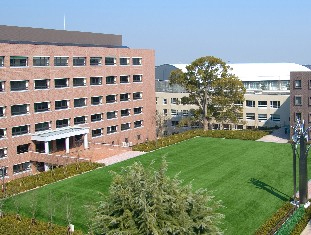 Law and Letters Building
The curriculum of the faculty covers such specialized subjects as Public Law (constitutional law, administrative law), Criminal Law(criminal law, criminal procedure, criminology), Civil Law (civil law, commercial law, corporate law, civil procedure) and Labor Laws, International Law, Legal Philosophy & History, Politics (analysis of political process, international relations, political thought).
Students are further required to take classes in liberal arts subjects (for 20 credits) and foreign languages (for 16 credits) in order to graduate. Every student must complete 130 credits, 94 of which must be in specialized subjects. Once these credits have been acquired, the student will be awarded the degree of Bachelor of Law.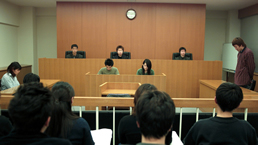 Moot Court
The faculty of law conducts small-sized classes in which students can learn through personal contact with their professors. In the first year all students are required to take a small-sized class, namely Seminar for Introduction to Law & Politics. In that they shall learn how to study law and politics. In the second year, special classes on case-law studies are held for the students aiming to be legal professionals. In the third and fourth years, academic ability of students is steadily developed in a speciallized four-semester seminar. All participants are expected to develop ideas of their own through writing and presenting papers, and engaging in discussion.
The alumni and alumnae of the Faculty by now number over 40,000, many of whom have benefited from the training offered by the Faculty to go on to become distinguished judges, prosecutors, and lawyers - for example, about one seventh of the practicing lawyers of the Osaka Bar Association are graduates of Kansai University. Our graduates are also active in such other fields as civil service, business, journalism, and politics.