No.
72
2023.04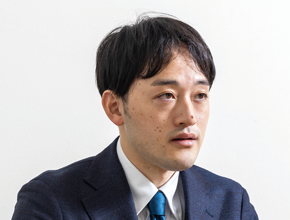 資源循環工学の研究
Study on Resource Circulation Engineering
低環境負荷の
次世代コンクリート材料の開発
火力発電所の産業副産物活用でCO2排出削減を
Development of next-generation concrete materials with low environmental impact
Reduction of CO2 emissions by utilizing waste from thermal power plants
環境都市工学部
松岡 光昭 准教授
Faculty of Environmental and Urban Engineering
Associate Professor Mitsuaki Matsuoka
持続可能な社会を実現するためにも、産業廃棄物や副産物の有効活用が求められている。環境都市工学部の松岡光昭准教授は、石炭火力発電所から排出される「フライアッシュ(石炭燃焼飛灰)」を原料として再利用し、セメントの代替材料となるジオポリマーの研究に取り組む。セメントコンクリートは製造工程で多量の二酸化炭素を排出するため、セメントを用いないジオポリマーコンクリートは環境負荷軽減に資する材料として期待されている。
In order to realize a sustainable society, the effective utilization of industrial waste and by-products is required. Associate Professor Mitsuaki Matsuoka of the Faculty of Environmental and Urban Engineering is studying on a geopolymer that can be used as an alternative material to cement by reusing "fly ash" (coal combustion fly ash) emitted from coal-fired power plants. Since cement concrete emits a large amount of carbon dioxide during the manufacturing process, this is expected to contribute to reducing the environmental burden.
エネルギー・環境問題の解決を目指す、エネルギー環境・化学工学科
所属する学科と研究室について教えてください。
私が所属しているエネルギー環境・化学工学科は元々、工学部の化学工学科として発足しました。その後、2007年の学部改組に伴い、環境都市工学部エネルギー・環境工学科になりました。2022年に、名称をエネルギー環境・化学工学科に改称しました。SDGs型AO入試を実施するなど、エネルギー・環境問題解決に貢献する人材を育成しています。
 化学工学は、生産現場の設備・装置内でどのような物理的・化学的現象が起こっているのか明らかにし、生産プロセスの理論と技術を体系的に扱う方法論の学問です。さまざまな分野がある化学系の中でも実際の生産現場に近く、社会実装を意識しています。当学科は、化学工学の知見をベースにエネルギー・環境問題の課題解決に寄与する研究を進めており、そうした問題に関心を持って入学してくる学生が多いですね。
 私たち資源循環工学研究室では、廃棄物や副産物に対する有価物回収、付加価値化、再資源化といった処理プロセスの開発や副産物を活用した無機材料の創製等に取り組んでいます。
Department of Chemical, Energy and Environmental Engineering aiming for solving energy and environmental problems
Please tell us about the department and laboratory that you belong to.
The Department of Chemical, Energy and Environmental Engineering, to which I belong, was originally established as the Department of Chemical Engineering in the Faculty of Engineering. Following that, in 2007, the Faculty was reorganized into the Department of Energy and Environmental Engineering, Faculty of Environmental and Urban Engineering. In 2022, the name of the Department has been changed to the current name. Through the implementation of the SDGs AO entrance examination, we are fostering human resources who can contribute to solving energy and environmental problems.
 Chemical engineering is the study of how production processes, physical and chemical phenomena are carried out within facilities and equipment at production sites, and deals systematically with theory and technology. Among the various fields of chemistry, we are particularly conscious of social implementation. Our department conducts research that contributes to the solution of energy and environmental problems based on our knowledge of chemical engineering, and many of our students have an interest in such problems when they enter the university.
 In our laboratory of Resources Recycling Engineering, we are engaged in the development of treatment processes for waste and by-products, including the recovery of valuable resources, value-adding, and recycling, and the creation of inorganic materials using by-products through the knowledge and technology cultivated so far.
フライアッシュをコンクリートの材料に
研究テーマ「フライアッシュ粒子の表面活性化による高強度ジオポリマー硬化体の開発」は、どのような研究でしょうか?
フライアッシュは石炭火力発電所から大量に排出される産業副産物であり、国内では年間1000万トン近くに達します。路盤材に使われたり、埋め立てによって廃棄処分されたりしています。
 私が取り組んでいるのは、このフライアッシュをコンクリートの材料として活用するための研究です。実は、コンクリートに使われるセメントは製造の際に高温での焼成工程があり、多量の二酸化炭素を排出します。このため近年、セメントの代替材料として、焼成工程を含まない「ジオポリマー」という新しい材料が盛んに研究されています。フライアッシュを主原料としたジオポリマーコンクリートは、従来のセメントコンクリートと比べてCO2排出量が削減されるだけではなく、構造的強度や耐酸性、耐熱性にも優れ、老朽化するインフラ、下水管など特殊な環境での活用も期待される、非常に可能性のある材料といえます。
 ただ、従来のセメントは室温でも硬化しますが、フライアッシュは一般の温度環境では硬化しにくく、熱処理や長時間の養生が必要という課題があるため、セメントと同等の養生条件で作製できるような設計プロセスを開発しています。
Using fly ash as concrete material
What type of research is covered by the study theme "Development of high-strength geopolymer cured materials by surface activation of fly ash particles?"
Fly ash is an industrial by-product emitted in large quantities from coal-fired power plants, and amounts to nearly 10 million tons per year in Japan. It is used for roadbed materials and as there is nowhere for it to go, it is disposed of in landfill sites.
 The study I am working on looks at how to reuse this fly ash as concrete material. In fact, the cement used in concrete has a calcination process at the time of production, and this emits a large amount of carbon dioxide. In recent years, a new material called "geopolymer" has been extensively studied as an alternative material to cement that can reduce carbon dioxide emissions. Geopolymer concrete using fly ash as the main raw material is not only environmentally friendly, but also has excellent structural strength, acid and heat resistance, and promises to be effective when used in special environments such as aging infrastructure and sewage pipes.
 While conventional cement hardens even at room temperature, fly ash does not harden easily in general temperature environments, and it has issues that require heat treatment and long-term curing. Therefore, we are developing a design process that will enable fabrication under curing conditions equivalent to those of cement.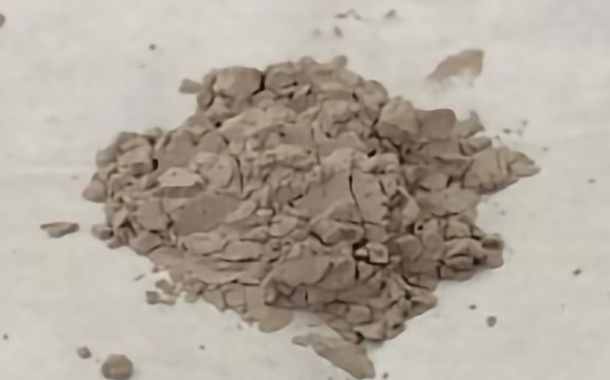 フライアッシュ(石炭燃焼飛灰)
coal fly ash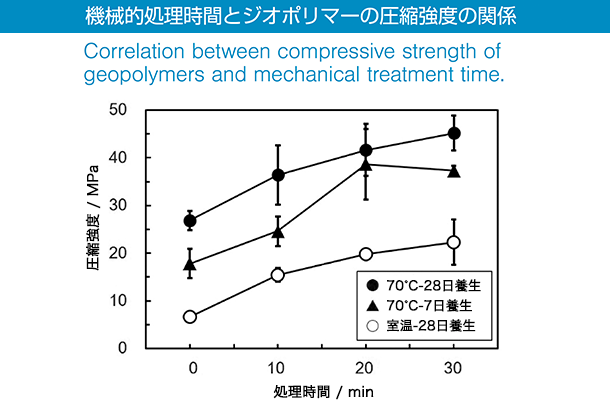 機械的処理時間とジオポリマーの圧縮強度の関係
Correlation between compressive strength of geopolymers and mechanical treatment time.
機械的エネルギーを与えて粉体を活性化
それはどのような条件・プロセスでしょうか?
フライアッシュはシリカ(二酸化ケイ素)やアルミナ(酸化アルミニウム)を主成分とするガラス相と結晶相から構成され、見た目はふわふわの灰です。大きさは数十ミクロン程度で、電子顕微鏡で見ると球形の微粒子です。フライアッシュをアルカリ溶液と水ガラスに浸すと、粒子の中から金属イオンが溶け出し、脱水を伴いながら縮重合して硬化します。しかし、粒子表面は安定であり、室温では金属イオンが溶け出しにくいのが難点です。
 そこで、粒子に機械的エネルギーを与える実験を試したところ、粒子表面に凹凸が生じるとともに結晶相の結晶性が低下して非晶質に変わり、金属イオンが溶出しやすくなりました。これを表面活性化と呼んでいます。硬化反応性が促進され、ジオポリマーの圧縮強度が向上しました。フライアッシュ以外の活性フィラーへの適用も進めています。
機械的なエネルギーは、どのように加えるのでしょうか?
さまざまな粉砕装置を使います。例えば、「遊星ボールミル」という自転・公転運動で遠心力を与え、粒子を細かく粉砕する装置、ローターが高速回転し、粒子に摩擦力やせん断力を与えて粉砕する装置などがあります。
Activate materials by applying mechanical energy
What conditions and processes are involved?
I will start by explaining the mechanism of hardening. Fly ash is composed of a glass phase and a crystalline phase, mainly silica (silicon dioxide) and alumina (aluminum oxide). This is several tens of microns in size, and it appears as a spherical fine particle when viewed under an electron microscope. When fly ash is immersed in an alkaline solution and water glass metal ions dissolve from the particles and tetrahedral frameworks of SiO4 and AlO4 were formed. However, the surface of the particles is stable, and this makes it difficult for metal ions to dissolve at room temperature.
 Therefore, an experiment was attempted in which mechanical energy was applied to the particles, the crystallinity of the particle surface decreased, and the particles changed from crystalline to amorphous, facilitating the elution of metal ions. This is referred to as surface activation. The Curing reactivity is accelerated and the compressive strength of the geopolymer is increased. We are studying whether it can be applied to active fillers other than fly ash.
How do you add mechanical energy?
We make use of various devices in our laboratory. For example, there is a device known as a "planetary ball mill," which imparts centrifugal force and finely pulverizes particles, and a device with a rotor that rotates at high speed and imparts friction and shear force to particles.




遊星ボールミル
planetary ball mill




全自動多目的X線回折装置
X-ray diffractometer



精密万能試験機(オートグラフ)
Universal testing machine autograph




ICP発光分光分析装置
Simultaneous ICP Atomic Emission Spectrometer
生産現場で必要とされる化学工学
どのようなところに研究の面白さを感じますか?
前処理や実験条件の工夫・設定次第で、硬化反応速度や硬化体の強度が大きく変わります。そういった因果関係を追究していくところでしょうか。例えば、フライアッシュを粉砕する装置の回転速度や処理時間、フライアッシュ以外に加えるフィラーの種類や量など、条件は何パターンにも変更可能です。一度にすべて変えると何が影響しているか分からないため、条件を整理し、1つずつ条件を変えて実験します。すると、「このパラメーターは硬化の速度に影響する」「強度に影響する」など徐々に明らかになっていきます。実験系の研究は明確な相関関係が明らかにならないことも多いですが、コツコツと忍耐強く実験を繰り返せるタイプの人は、同じように面白さを感じると思います。
研究室の出身者はどのような分野で活躍していますか?
化学メーカーをはじめ幅広い業界で、研究者・技術者・エンジニアとして、男女問わず活躍しています。工場など生産現場における生産・環境管理のエンジニアは、各メーカーにとって必須の人材です。各生産プロセスを理解する単位操作(ユニットオペレーション)の知識・技術を習得できるのは化学工学科の強みです。
Chemical engineering required at production sites
What do you find most interesting about your research?
There is a significant variance in the curing reaction speed and compressive strength depending on the pretreatment and experimental conditions. I have an interest in discovering such cause-and-effect relationships. For example, the conditions can be changed for any number of patterns, such as the rotational speed and processing time of the fly ash pulverizing device, and the type and amount of fillers to be added in addition to fly ash. If we change everything at once, we will not know what is affecting what, so we organize the conditions and experiments, changing the conditions one by one. By doing so, information that "this parameter affects the curing speed" and "this one affects the strength" gradually comes to light. Research on experimental systems often fails to reveal clear correlations. However, I think the type of person who can repeat experiments steadily and patiently will find it interesting.
In what kind of fields are the students from your laboratory active?
Regardless of gender, they are active as researchers, technicians, and engineers in a wide range of industries, including chemical manufacturers. Whereas engineers for production and environmental management in factories and other production sites are indispensable human resources for all manufacturers, it is only chemical engineering departments that can provide knowledge and skills in unit operations to facilitate the understanding of each production process, and in fact, the supply of human resources is scarce in this field.
持続可能な社会の実現に向けて
今後の抱負をお聞かせください。
やはり、このジオポリマーの研究を社会実装までつなげることが目標ですね。私の出身の研究分野はセラミックスや粉体工学ですが、化学工学の教員としてこれまで以上に環境問題を意識するようになり、環境負荷の低いプロセス、産業副産物を活用した材料の研究を始めました。最近では、ジオポリマーを用いた有害イオンの固定化にも取り組んでいます。
 今、私たちはエネルギーや資源をふんだんに消費する便利な社会を生きています。私には幼い子どもが2人いますが、環境問題をはじめ不安定な世界情勢に左右される資源の問題など、この子どもたちが大人になる頃に社会は一体どうなっているのだろうかと考えると、社会の持続可能性はリアルな問題です。いくら特性が優れていても、大量生産において環境負荷が高いプロセスや生産効率の低いプロセスを要するのであれば長期的に見て持続性がありません。資源のリサイクル・循環活用の研究や、地球環境に配慮した生産プロセスの開発などを通して、持続可能な社会の実現に貢献できればと考えています。
 最近はエネルギー・環境問題への意識を持った学生が多く入学してくれているので、関西大学で学んだ化学工学の知識・技術を活かし、その志を持って社会でも活躍してくれると期待しています。
Aiming to achieve a sustainable society
Please tell us your future aspirations.
When all is said and done, the goal is to connect this geopolymer research to social implementation. My field of research is ceramics and powder engineering, but as a member of the chemical engineering faculty, I began to become aware of environmental issues, and started research on environmentally friendly and recyclable materials. Recently, we have been studying the immobilization of toxic ions using geopolymers.
 Nowadays, the convenience of people's lives has been pursued to the breaking point. A disadvantage of this is that we must now question whether we can sustain this society. I have two young children. The sustainability of society is a real problem when we think about what society will be like when these children become adults, such as environmental issues and the unstable global situation. No matter how superior the characteristics of a product, it is not sustainable if it requires processes that have a high environmental impact or low production efficiency in mass production. We hope to contribute to the realization of a sustainable society through research on the recycling and circulation of resources and the development of environmentally friendly production processes.
 In addition, since many students have recently enrolled in the field of energy and the environment, we expect that they will utilize the knowledge and technology of chemical engineering learned at Kansai University and play an active role in society with these aspirations.