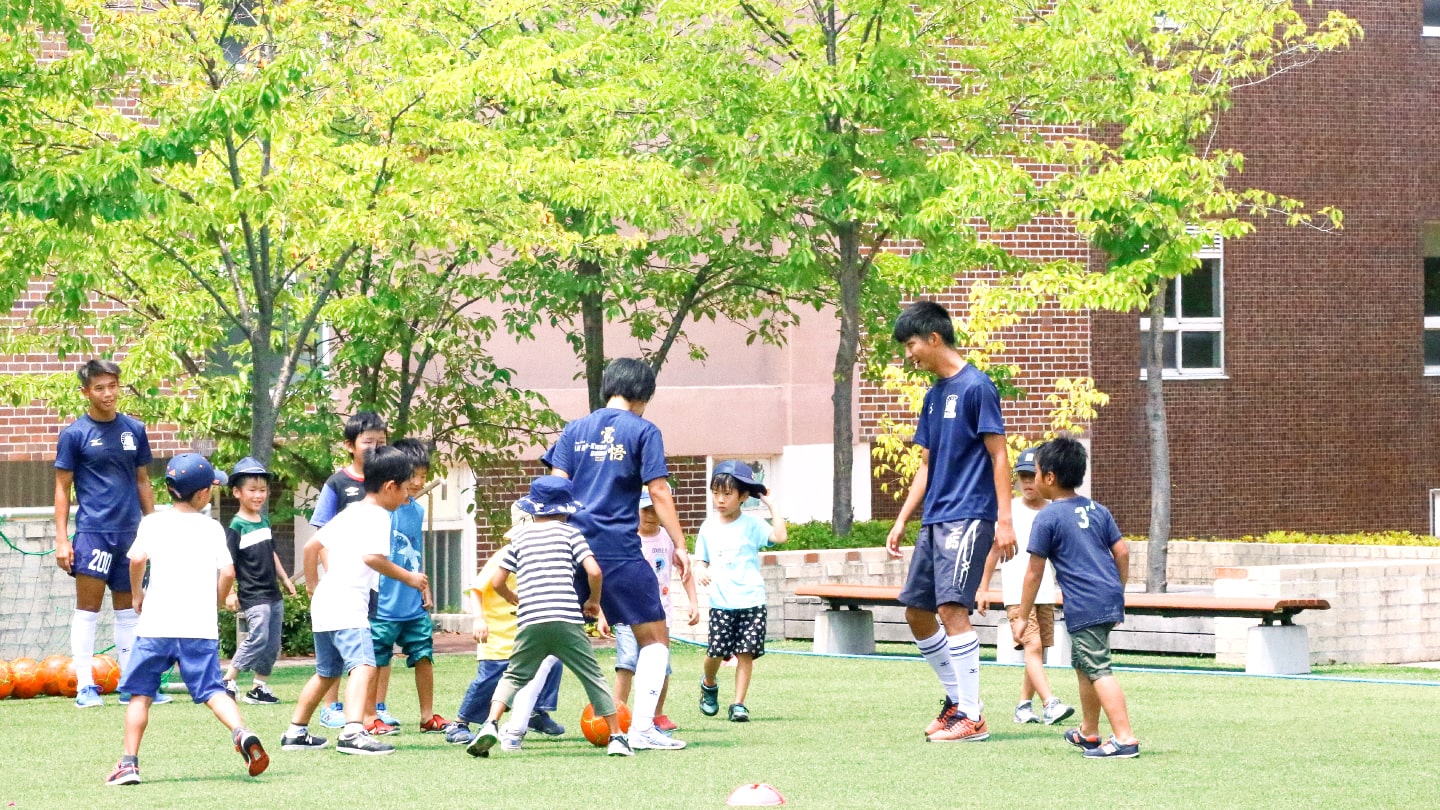 Community and Business Partnerships
Society, Community, High School, and University Partnerships
As a knowledge creation hub, Kansai University strives to give intellectual resources back to society and effectively utilize such resources.
By developing the next generation of human resources, we aim to contribute to society in far-reaching ways.
 The objective of the Division of Community and Business Partnerships is to contribute to society in a general sense through the promotion of business, government, and university partnership projects, the creation, protection, and use of intellectual property, community cooperation, high school and university partnership projects, and similar pursuits. The division consists of seven centers and one organization, and the division serves as an interface between Kansai University and society to ensure that the University's human and intellectual resources are useful for developing the real world while also facilitating interaction between them.
Division of Community and Business Partnership
Center for Business, Government and Universities/Center for Intellectual Property

 These centers promote projects involving joint research and development through cooperation with companies, public organizations, research institutes, and other organizations. The centers also strive to support entrepreneurship activities while also implementing an intellectual creation cycle encompassing everything from the creation to the protection and use of intellectual property.

Industries, government agencies

Center for Community Collaboration

 In addition to playing a role as a liaison for cooperation with the community, this Center accumulates know-how pertaining to community cooperation and strives to make cooperative activities a reality. The Center promotes projects aimed at resolving community issues and holds diverse public lectures and seminars to communicate information.

The community, local government agencies

Center for High School and University Partnerships

 This Center implements various cooperative programs aimed at taking advantage of university knowledge, such as visiting lectures, open classes, and other events targeting a wide range of age groups―including not only high school students but also elementary and junior high school students as well as the faculty―in order to make education more comprehensive and advanced while also promoting the development of the next generation of human resources.

Education committees, senior high schools, other educational institutions

Center for Innovation and Creativity

 This multifaceted innovation hub's functions include incubation and venture support. The Center promotes ongoing dialogue and interaction between on and off-campus researchers and engineers to facilitate the research, development, and social implementation of science and technology through business, government, and university partnerships.

Industries, financial institutions

Research Center for Naniwa-Osaka Studies

 As a community research hub, this Center communicates Osaka research results both to Japan and the rest of the world to fulfill our social mission as a university that was born and developed in Osaka and respond to the associated expectations.

The community, research institutes

The Organization for Education and Research Collaboration in Medical, Pharmaceutical and Engineering Sciences

 This Organization cooperates with Osaka Medical and Pharmaceutical University to provide interdisciplinary education that fuses science and engineering, medicine, nursing, and pharmacology while also striving to contribute to the communities of Takatsuki City and other regions.

Local governments, the community, research institutes

Carbon Neutrality Research Center (CNRC)

 The center conducts joint research and disseminates information focusing on a carbon-neutral society. The center contributes to the conservation of the global environment from multiple perspectives. This includes the advancement of human resources and the creation of new technologies by using all available educational and research resources at the center.

Industries,
government agencies,
the community
Interaction across Industries
Through interaction between different industries, we are creating a new hub where the community, members of society, and the University can collaborate together.
 The Umeda Campus KANDAI Me RISE Club is a new kind of cooperative base that differs from the workplace or home. This luxurious space has a library of more than 2,500 books, regular members-only seminars and meet and greets, and other ways for visitors to constantly improve themselves through encounters with new information and human resources.
Community Interaction
We aim to be a university open to the community by using all our available resources to promote exchange and facilitate activities.
 As an institution of higher education, we are the core of the community. Therefore, we strive to go beyond the confines of existing frameworks and methods as we conduct various activities aimed at the further vitalization and promotion of interaction in terms of the culture, daily life, and various other aspects of the community.
Community and Business Partnerships