Fourth KU "Koori no Koshien"
From July 9-10, the 4th "Koori no Koshien," a performance by junior figure skaters, along with an exhibition by our top figure skaters, was held in the Ice Arena on Takatsuki Campus.
At the junior skaters' performance, approximately 80 students, ranging from elementary through high school, exhibited the fruits of their daily practice, and the higher-ranking students were then awarded a certificate of commendation and a medal.
This year, the special awards were also given by Nobuo Sato, our alumnus as well as a member of the World Figure Skating Hall of Fame. Furthermore, Nobunari Oda (Graduate School of Letters) appeared as a surprise guest. He praised the skaters and said that he was impressed that everyone has a high level of skating technique.
In the exhibition, Tatsuki Machida (Faculty of Letters) unveiled his new SP, which was just completed the previous day, while Yamato Tamura, a professional figure skater and also a coach at the Kansai University Ice Skating Club, gave an excellent performance. The audience of five hundred enthusiastically cheered the "Koori no Koshien."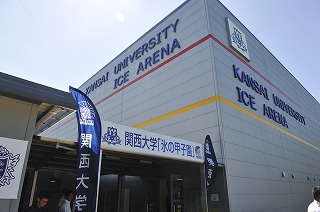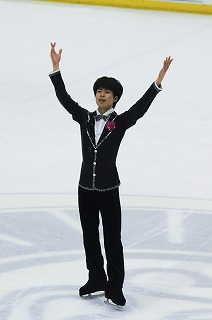 Tatsuki Machida gave a great performance at the exhibition.
August 26, 2011 09:48 AM UP