Cooperation Agreement Concluded with Osaka City Kita Ward Office
Kansai University concluded an agreement on cooperation with Osaka City Kita Ward Office in a signing ceremony on February 24. In order to promote cooperation for vigorous regional development and active human resources development by enhancing the university education and academic research, we will collaborate in various fields such as fostering an active local community and promotion of education, culture and local industry.
In Osaka city Kita ward, we set up not only Tenroku Campus but also "Rakusai Tensan," a research center for social trust empowerment process, and "Rakuichi Rakuza," a regional cooperation center, at Tenjinbashisuji Shopping Arcade in July 2010.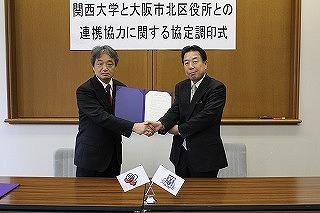 March 24, 2011 03:42 PM UP