Kansai University Mediated a Friendship between Osaka Castle and Schloss Eggenberg
On October 2, Osaka Castle formed a mutual tie-up with Schloss Eggenberg (Eggenberg Castle) in the city of Graz, Austria with the aim of fostering friendship and cultural exchange between the two castles as well as Japan and Austria. Schloss Eggenberg has owned eight panels of Japanese folding screen ("byōbu") depicting the prosperous period of Osaka including Osaka Castle during the Toyotomi era.
The screen was first introduced to Japan in October, 2006, after its value was identified by Kansai University Research Center for Naniwa-Osaka Cultural Heritage Studies. As a result, the Center has reached an agreement on collaborative research on this "byōbu" with Landesmuseum Schloss Eggenberg (Eggenberg Castle Museum) and Osaka Castle Museum, leading to the friendly ties between the two castles.
The ceramic replica of the panoramic "byōbu" is on display at the lobby on the second floor of the first building No.1, Senriyama Campus. Please feel free to visit the Campus to see the ceramic replica.
The website of Kansai University Research Center for Naniwa-Osaka Cultural Heritage Studies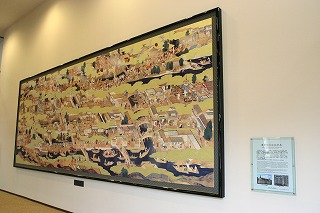 October 15, 2009 03:11 PM UP