International Symposium in Science and Technology Held at Kansai University
Kansai University held an International Symposium in Science and Technology 2009 from August 23 to 25 at Senriyama Campus. The symposium was co-hosted by the followings: the Graduate School of Science and Engineering; the faculties of Engineering Science; Environmental and Urban Engineering; Chemistry, Materials and Bioengineering; the Division of Community and Business Partnerships; and the Organization for Research and Development of Innovative Science and Technology.
Researchers were invited from its partner universities: Chulalongkorn University (Thailand), Thammasat University (Thailand) and Cheng Shiu University (Taiwan, ROC). On August 25, the final day, poster sessions were held on three categories: life science, information technology and civil engineering.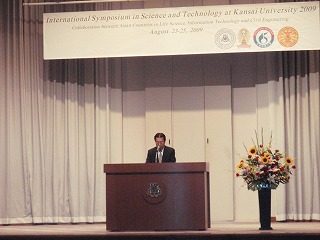 August 31, 2009 03:37 PM UP