Daiki Sakamoto selected as member of Samurai Japan Collegiate Team
Samurai Japan released the Collegiate National Team roster on June 4. The team will play in two tournaments: the 41st Japan-USA University Baseball Championship in July and the 29th Universiade in August. Daiki Sakamoto, a fourth-year student in the Faculty of Economics, was selected from Kansai University baseball club as a member of the national team.
Sakamoto, sometimes called "Dr. K of KU," is good at pitching a fastball at up to 145km per hour and has a sharp cutter. Though of small build, he shows his strong determination at the pitcher's mound, and has achieved 10 career wins in the Kansai Big 6 Baseball League as a KU ace pitcher.
We hope for him to play an active role as a national representative player in the team as it attempts two consecutive wins in the Universiade games and also its first-ever third consecutive title in the Japan-USA University Baseball Championship.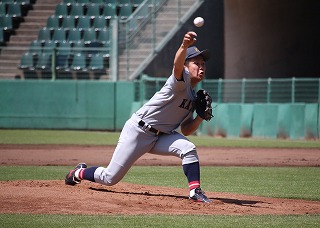 Daiki Sakamoto
Photo by Kandai Sports
June 14, 2017 09:29 AM UP