Completion Ceremony Held for International Exchange Students
On January 13, the Division of International Affairs held a completion ceremony for 15 international exchange students, who completed the exchange program at Kansai University. At the ceremony, each student received a certificate of completion from Vice-President Shinichi Ueshima.
At a send-off party, the students enjoyed talking to each other about their memories at the university and how they already missed each other.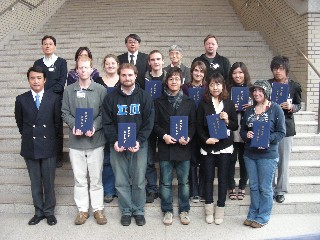 January 25, 2010 09:00 AM UP