Academic Interaction Agreement concluded between ICIS and Korean Studies Advancement Center
Institute for Cultural Interaction Studies, Kansai University (ICIS) concluded an academic interaction agreement with the Korean Studies Advancement Center on December 10.
Korean Studies Advancement Center, located in Andong-city, Gyeongsangbuk-do, Korea, is a research institute specializing in Confucianism studies and is engaged in such activities as collection and preservation of Confucian materials as well as research and promotion of Confucianism studies.
Under this agreement, the both institutes will work cooperatively to promote cultural interaction studies on East Asian culture including Confucianism by jointly holding research conferences and international symposiums on Confucianism and Shoin, private educational institutions established throughout East Asia in centuries past.
Website of ICIS
Website of Korean Studies Advancement Center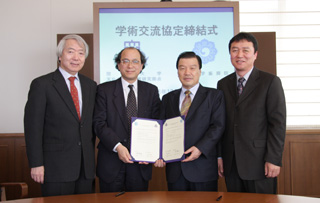 President Kawata, Kansai University; Prof. Tao, Director of ICIS;
President Shim, Korean Studies Advancement Center; and
Dr. Park, Head of Korean Studies Research Team (from left)

January 13, 2009 03:36 PM UP