SUCCESS-Osaka Study Meeting for Enterprises
A study meeting for enterprises to learn about employing international students was held at Kansai University Umeda Campus on October 16.
SUCESS-Osaka, Specialize University Curriculum for Career Empowerment and Social Supports, is a Kansai University program commissioned by the Ministry of Education, Culture, Sports, Science and Technology to promote international students' career paths. The program also aims to encourage international students to settle in Japan and be in long-term employment.
In the study meeting, Naoyuki Misawa from the enterprise Kunie and SUCCESS-Osaka coordinator Keisuke Yoshida had a discussion about issues that should be addressed regarding Japanese companies as seen from both the enterprise and university sides, as well as how the characteristics of foreign students and Japanese students differ. There was also a debate about what form internship should take, hearing from international students who have job-hunting experience in Japan.
Participants from companies talked about difficulties they encountered when employing international students, and listened to opinions from students who had finished job hunting. They had a productive time identifying their current problems and moving forward to achieve their goals.
SUCCESS-Osaka Website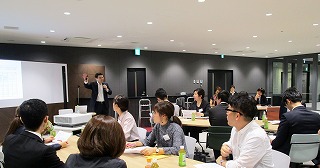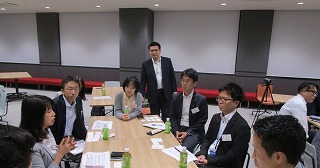 November 09, 2018 10:22 AM UP