Open Experiment for Tsukuba Challenge 2017 at Kansai University
On September 9 and 10, an event called "Challenge for 'Tsukuba Challenge' at Kansai University" was held at Senriyama Campus.
The "Tsukuba Challenge" is an open experiment where a robot autonomously travels to complete a given route and tasks in a real environment in Tsukuba City, Ibaraki, which is aiming for coexistence between people and robots in the future. This year, the Tsukuba Challenge prepared an experiment course in advance at Kansai University for challengers who cannot visit Tsukuba City for the pre-test, and which turned out to be an opportunity for researchers to exchange knowledge as well as learn more about robot development technology.
A total of six teams, consisting of two from Osaka City University, and one each from Osaka Institute of Technology, Proassist Ltd., Kansai University and Mie University, took part in the event. All the robots, ordered to search for a specified person, proceeded autonomously on the set course around university buildings, which was provided under the same conditions as in Tsukuba City. Some of the highly skilled teams tried a difficult route by ordering their robot to open an automatic door and pass through a building.
On the first day, all of the teams collected information about the route and checked their robot's mobility and search functions, to prepare for the second day, the actual challenge day. The Kansai University team successfully cleared all tasks to complete the course and search for the person. Event participants said that they were able to acquire valuable information and discover problems to be solved during the event. Their preparations were useful for the upcoming Tsukuba Challenge day.
The Tsukuba Challenge 2017 will be held on November 5. From our university, the team led by Professor Seiji Aoyagi in the Faculty of System Engineering will be participating in the event, aiming at course completion and task achievement.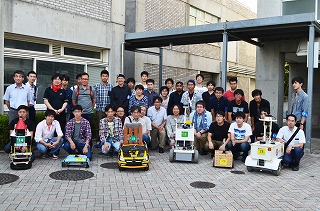 Photo of all participants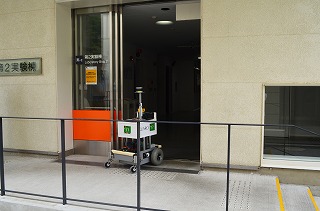 KU Robot KUARO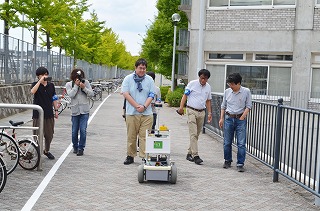 KU Team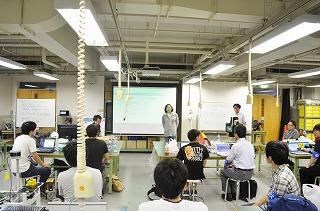 October 02, 2017 11:44 AM UP