Graduation Farewell Party held for international students
On March 18th, the Division of International Affairs held a Graduation Farewell Party for international students at Kansai University Senriyama Campus. A total of 123 foreign students graduated from the university, or completed master's courses.
KU President, Harushige Kusumi, and Chairman of the Board of Trustees, Keizou Ikeuchi, led the proceedings with congratulatory speeches. Shuntarou Terauchi, President of the Alumni Association, followed by presenting gifts to graduates.
A representative of the international students expressed his appreciation to the teachers, reminisced about his student life, and outlined his ambitions for the future. His messages resonated with both staff and students. The graduates had an enjoyable time with their peers and teachers, and though they are leaving Kansai University, it now has a special place in their hearts as their 'home' in Japan.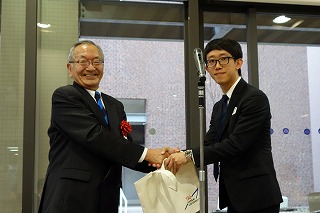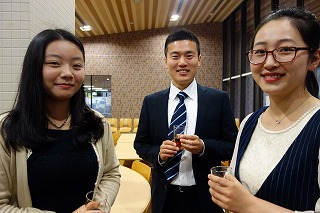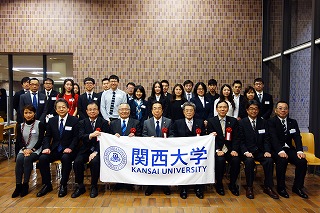 March 29, 2016 01:31 PM UP