Course Completion Ceremony for Exchange Students Fall 2012
On the January 28, the Fall Course Completion Ceremony for the exchange students 2012 was held at Senriyama campus. Twelve students from eight countries completed either one semester or a one year program were congratulated by Professor Yoshida (Dean of the Division of International Affairs) and Professor Kuroda (Chief of the Student Center), and each given the course completion certificate.
An exchange student from University of Otago in New Zealand gave a speech in excellent Japanese. He said that in the beginning, he encountered hard times with an unfamiliar environment and words, and felt homesick. However he met other exchange students from all over the world as well as Japanese students, and eventually it had turned into precious experience with many good memories.
At the send-off party after the ceremony, another exchange student and a supporting volunteer student gave speeches. They said they had spent the most enjoyable time in their life at Kansai University, which was wonderful to hear.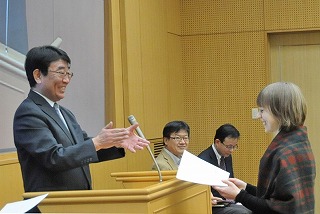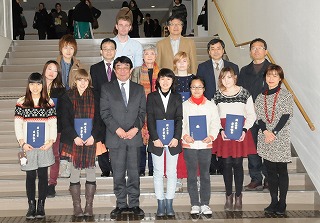 February 12, 2013 11:12 AM UP