Send-off Party for Yoshihiro Azuma, Selected for London Olympic Track and Field Squad
On July 5, a send-off party was held for Kansai University track and field club member Yoshihiro Azuma, a 3rd year student in the Faculty of Health and Well- Being on Senriyama Campus. Azuma was selected for the men's 4x400m relay squad in the London Olympics, which will be the first time in 76 years for a KU student to participate in track and field events in the Summer Olympic Games; people including the KU track club members gathered to wish him well.
At the send-off party, Harushige Kusumi, President of Kansai University, and Yoin Uehara, Chairman of the Board of Trustees, congratulated him in their speeches. A track club member presented him with flowers and the KU cheering squad gave a performance at the party. In his speech, Azuma said: "I will do my best for all my supporters." Please give him your support!
The 4x400m relay schedule is as follows:
・Men's 4x400m relay qualifying round: Thursday August 9 (Japan time: August 9, 19:35 - )
・Men's 4x400m relay final medal round: Friday August 10 (Japan time: August 11, 5:20 - )

About Yoshihiro Azuma
Azuma began track and field seriously in junior high school. Having started at long-distance, he switched to the 400m sprint in his second year at junior high school. However, he came seventh in the Osaka Competition and could not participate in the Kinki Inter-High School Championships.
After enrolling in university and joining the track club, his natural talent bloomed. Under the mentorship of his manager and coach, he trained day after day. Besides the team's training, he set his own targets and trained by himself up to the last minute of each session. This year, he changed part of his training programs, adding the 100 and 200m dash; he put his efforts into short distance training to increase his speed. Since his time shortened 1.7 seconds in just over a half year, Azuma had a positive impact on his teammates; the other 20 members in the 400m sprint broke their own records one after the other.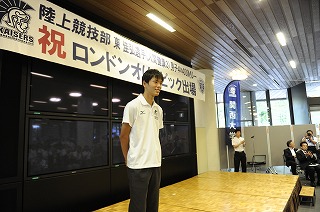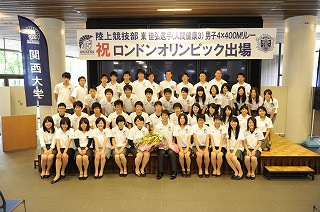 July 13, 2012 09:54 AM UP