Graduation Ceremony for Exchange Students Fall 2010
On January 18, the graduation ceremony for the exchange students Fall 2010 was held at Kansai University Centenary Memorial Hall. Eighteen students from nine countries completed either one semester or one year study at Kansai University. The students were congratulated by Professor Ueshima (Dean of the Division of International Affairs) and Professor Oshima (Deputy Chief of the Student Center) and each of them received their certificate of completion in person.
Mr. Todd Matthew from the Australian National University was chosen to give a speech as a representative of the exchange students. Reflecting on his fruitful year at Kansai University, he thanked teachers, staff and Japanese students. After the graduation ceremony, two exchange students from South Korea performed Nihon Buyo, the classical Japanese dance, at the send-off party.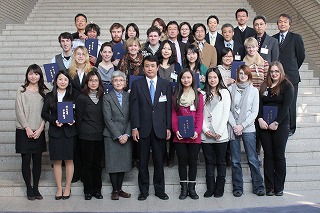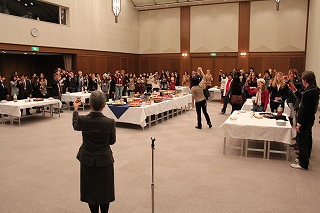 February 10, 2011 01:40 PM UP