Planting Volunteer in the village of Asuka
On November 15, as part of Kansai University's regional partnership, 12 students participated in the volunteer to plant peach trees and mow grass alongside the Asuka River, near the Mizuochi Ruins in Asuka, Nara Prefecture. They also had opportunities to talk with local staff and residents in a friendly atmosphere at lunch.
This was the fourth planting since Kansai University and the village of Asuka had been in partnership in 2006, and the previously-planted trees have a beautiful bloom in every spring.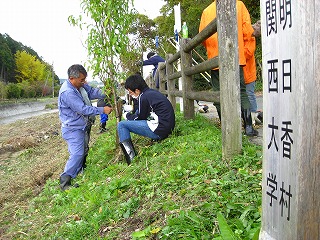 November 30, 2009 04:14 PM UP