KANDAI
HEADLINES
PERSON
BUSINESS
CULTURE
GLOBAL
From Switzerland to Japan. A 20-year career. Delivering Brand Strategy for the Olympics
Captivated by Japanese popular culture
/Panasonic Operational Excellence Co., Ltd.
Mr. Jonas Amiguet - Graduated from the Faculty of Sociology in 2009
 Kansai University's campuses have a strong international flavor, with over 1,000 study abroad students enrolled. Many foreign students remain in Japan after graduation to pursue their careers, one of whom is Jonas Amiguet from Switzerland. After graduating with a degree in sociology he joined Panasonic, where he is currently involved in their brand marketing through the Olympic and Paralympic Games.
Looking ahead to Paris 2024
 Jonas works at the Panasonic Center Tokyo, located in Ariake, Koto-ku. The Olympic Games Tokyo 2020 tennis and gymnastics venues are nearby, and the Tokyo Big Sight, where the main press center is located, is within walking distance.
 Panasonic is an official Worldwide Partner of the Olympic and Paralympic Games. During the Tokyo Games, the futuristic-looking Panasonic Center was planned to become a venue showcasing the Panasonic brand to the world. However, the Games were held without spectators due to the COVID-19 pandemic, and Ariake was not bustling with people from all over the world. "We were able to use technology in Games operations as planned, but we could do very little activation" (marketing activities using sponsorship rights). Jonas relates this experience in fluent Japanese with a wry smile on his face.
 However, there is no time to look back: His next mission is developing strategies building up to the Olympic Games Paris 2024. Through his work as a liaison with IOC headquarters and gathering opinions from both within Japan and overseas, he explains with passion that "I want to spread Panasonic's message of 'creating an ideal society through technology and sports' via Paris 2024, which we couldn't fully achieve via Tokyo 2020 and Beijing 2022."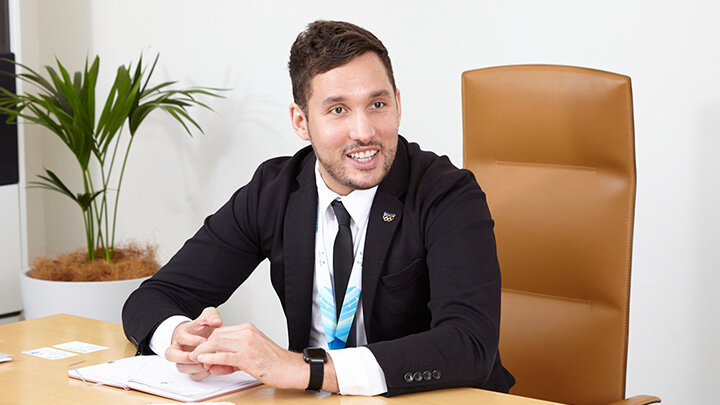 To Japan, a country that looks familiar and interesting
 Switzerland is a multilingual country with four official languages. Jonas speaks English, French, and German, but this is nothing particularly special in his native Switzerland. Thinking, "I want to learn a distinctive language that others don't use," what came to mind for Jonas when he was about to graduate from high school was Japanese. In fact, he had been familiar with Japan since he was young - thanks to anime. Many anime such as "Dragon Ball," "Saint Seiya," and "City Hunter" were shown on Swiss TV. The more he watched, the less distant Japan became in the young Jonas' mind. In his teenage years, Jonas came across films directed by the likes of Takeshi Kitano and Hideaki Anno, further fueling his interest in Japan and feeling that "this country looks fascinating." After graduating high school and completing military service, he came to Japan in 2003 with money he had saved from trade-related work.
 First, he enrolled at a Japanese language school in Tennoji, Osaka. Through enjoying life in Japan to the fullest - such as visiting comedy clubs and exploring Osaka's shitamachi entertainment and residential areas - his desire to understand this country more deeply intensified, leading Jonas to go to university here. At that time he was interested in a career in the media, discovering Kansai University while looking for a university in the Kansai region where he could major in media studies. "When I went to check it out, the campus was expansive and the atmosphere fantastic. I decided to put in the effort to get into this university." After six months of intensive study, he entered the Faculty of Sociology in the spring of 2005.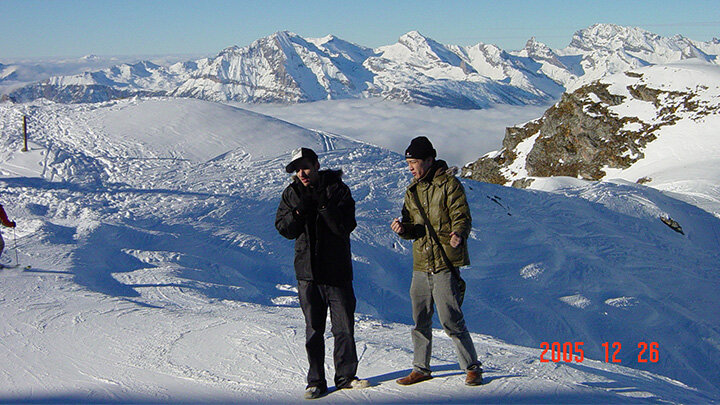 Kansai University classes which left a deep impression
 "Kandai was the university I'd hoped it would be. The facilities are leading edge, and I was able to learn efficiently and systematically in a relaxed environment." What Jonas will never forget from his time at university was the interaction with university staff. He frequently visited the Center for Career Development and hung out at (what was then) the International Exchange Center, enjoying a wide variety of conversations ranging well beyond student life and employment support. In particular, Jonas fondly recalls chatting with Center staff member Yasunori Doi, who had similar hobbies such as anime and manga, saying that they "shared a real emotional connection."
 In terms of learning, Professor Hiroshi Ogawa's classes left a special impression. His unique analysis of pop culture from a sociological perspective critiqued the hit songs of 'idols' such as Seiko Matsuda in relation to specific social and mass media circumstances. "I borrowed CDs of classic hit songs from a rental shop near school and learned the songs as much as I could." Jonas explains that linking trends in pop culture and mass media with changes in Japanese society brought genuine depth to his learning.
"SPORTS x MANGA"
 Finding that the philosophy of Konosuke Matsushita resonated with his own outlook, Jonas joined Panasonic after graduation. After two years of factory experience learning the basics of manufacturing craftsmanship, he moved to the Sales Planning Department to work on global advertising. In the spring 2017 personnel transfer round, he requested to join the Olympic and Paralympic Division, believing that "The Tokyo Olympics is a once-in-a-lifetime opportunity." Unfortunately, the COVID-19 pandemic meant the Games' potential was left somewhat unfulfilled, but it was also a rare and valuable experience. Part of that experience was when Jonas designed and created a special exhibition called "SPORTS x MANGA" in July 2019.
 Panasonic's leading-edge technologies such as flat-panel displays and projectors were harnessed to showcase more than 100 Japanese sports manga titles. Demonstrating their history and impact on society, the exhibition presented the spirit and training methods depicted in manga as well as their relationship with athletes who took up a sport after being inspired by manga, overlaid with the values of the Olympic and Paralympic Games. "We also showed newspapers and magazines from when the works were drawn, looking at the interrelationships between pop culture, society, and the media. There's definitely a connection with what I learned at Kansai University." The exhibition also included a section showing the history of how Japanese anime culture has become increasingly popular in Europe since the 1970s. For Jonas, this exhibition marked the convergence of his childhood encounter with anime and his studies at Kansai University.
Get the tools to convey your passion
 20 years have already passed since Jonas came to Japan with the intention of staying "about 18 months." Throughout this whole time, he never once wanted to leave Japan, describing his four years at Kansai University as "I had no hard feelings or regrets at all." "If you get the feeling that something 'wasn't supposed to be like this,' that means you didn't do enough research in advance." As a closing thought, we asked Jonas for a message to the students following in his footsteps at Kansai University.
 "Hold tight to your passions, and get the tools to communicate them to people. Make your own inimitable uniqueness a weapon."
 These words surely encapsulate the distinctive outlook of Jonas, who - beginning with the thought that "I want to master a language that other people don't know" - set out from a multilingual country to a foreign land and built his career in Japan.
Source:KANSAI UNIVERSITY NEWS LETTER『Reed』No.69(May,2022)
Jonas Amiguet

Born in Lausanne, Switzerland, in 1981. Came to Japan in 2003. Graduated from the Kansai University Faculty of Sociology in 2009, majoring in Mass Communication (now the Media Studies Major). The same year, he joined (what was then called) Panasonic Electric Works Co., Ltd. He is currently manager of the Olympic and Paralympic Marketing Section of the Brand Strategy Center in the Brand and Communications Department of Panasonic Operational Excellence Co., Ltd.