Special Lecture "Robots, Artificial Intelligence and Threats to Privacy" to Promote Human-Rights Awareness
Kansai University annually holds distinctive events to promote human-rights awareness among the entire staff with the cooperation of individuals both within and outside the university. As part of this, Karl Manheim, a professor at Loyola University, was invited to give a special lecture about the influence of the latest technologies on constitutional rights at Senriyama Campus on April 26.
Professor Manheim stressed the importance of protecting privacy as an essential element of human dignity and individuality. Artificial Intelligence works by analyzing a huge amount of private data on ourselves, which is gathered through individuals' retrieval histories and messages on smart devices and SNS, and then is accumulated as "big data" to provide us with more convenience. AI however has the potential to control humans and society using the big data, Prof. Manheim pointed out, citing the Facebook data-leak scandal. As a solution to such information leaks, it is necessary to create a new law for privacy protection which restricts access to data, he argued.
In response to a question from a participant asking about the possibility of AI taking over current jobs, he answered that it's already occurring, and that even the jobs of professionals, such as lawyers, are being gradually superceded. AI hence poses a threat to humanity. Professor Manheim concluded by insisting that controlling AI is our challenge for the future.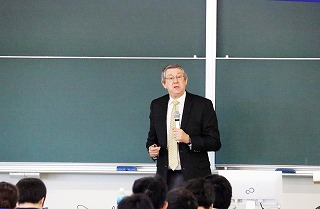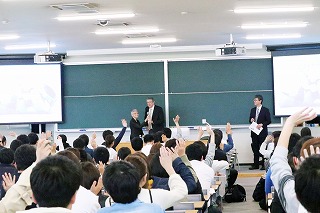 May 07, 2018 02:18 PM UP