Rio de Janeiro Olympics send-off ceremony for Sailing athlete Sena Takano
On June 29th, a send-off ceremony was held at Senriyama Campus for Sena Takano, a freshman in the Faculty of Health and Well-being and a member of the KU yacht club, who has qualified for the Rio de Janeiro Olympics in sailing class 49erFX.
The welcoming applause of a total of 250 students and educational staff began the ceremony. KU president Harushige Kusumi, Chairman of the Board of Trustees Keizou Ikeuchi, a student representative and chief of KU athletic club Yoshie Kawahara and all other speakers offered their congratulations and expressed the hope that Sena will race to victory on the ocean much as the Brazilian racing driver Ayrton Senna did on the track - given the fact that she was actually named after him.
In response to these words of encouragement, Sena boldly stated: "We should be able to take advantage of the wind in Rio de Janeiro. With our eyes on the ultimate goal of the gold medal, we will compete to place in the top 8 at least."
Sena had previously mentioned at the support rally held at Kansai University Dai-ichi Senior High School in March of this year that she was targeting the top 15. The upgrade to her current target seems to be evidence of her growing confidence.
KU graduates Daisuke Takahashi and Nobunari Oda, and first-year KU student Satoko Miyahara (Faculty of Letters), all of whom have experience competing in winter Olympics, sent messages of support, saying that even though Takano would get nervous, she should not forget to enjoy the races, and that experiencing the world's biggest stage, the Olympics, will be a great opportunity for her to grow more as an athlete and a person.
The races in sailing class 49erFX are scheduled to be held from August 12 to 18. During this period, everyone at Kansai University will be cheering her on as she competes on the world stage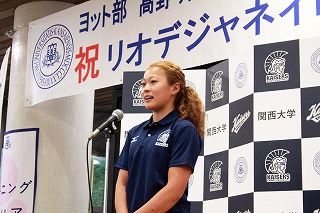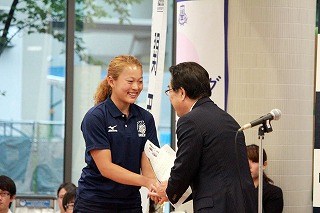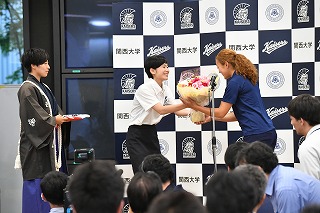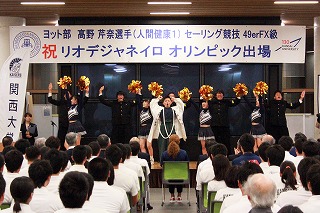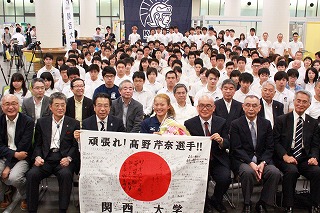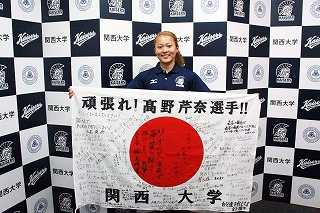 July 15, 2016 04:54 PM UP