KU participates in "The Rebirth of Tohoku - Wa in Paris" festival
Kansai University participated in a festival called "The Rebirth of Tohoku - Wa in Paris", held on August 30 and 31 in the Champ-de-Mars Park, Paris. This event was led by the OECD Tohoku School, an educational program supported by Fukushima University and OECD, in which 100 junior high and high school students from Fukushima, Miyagi and Iwate prefectures worked to express the rebirth and wonders of Tohoku region to the world. The theme of the festival is "Japan Rising towards the Future", conveying what they learned from enormous damage caused by the Great East Japan Earthquake, and how they created bridges to a better future.
Kansai University has been proactive in supporting the post-quake recovery. We have concluded a regional partnership agreement with Otsuchi town in Iwate prefecture to facilitate the creation of employment opportunities, and develop human resources. We have also held calligraphy classes for residents in Otsuchi town to keep residents actively involved in social activities. This was supported by the Research center for Social Trust and Empowerment Process (STEP).
In the festival, a calligrapher and STEP collaborator, Ms. Shiho Imagara, demonstrated the art of calligraphy at Kansai University's booth. She also wrote 5,000 characters as support messages towards recovery on 1,000 sheets of paper, and presented them to people visiting Paris from all over the world.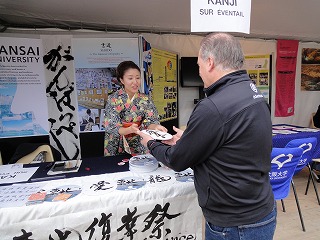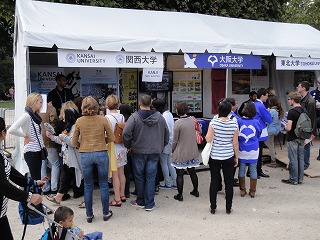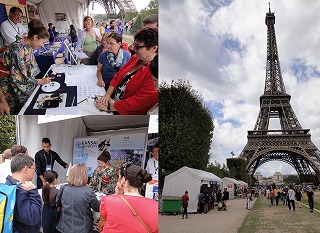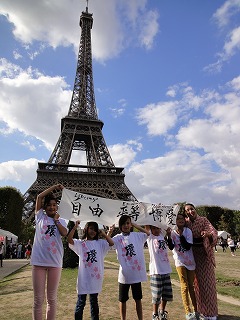 September 25, 2014 10:41 AM UP