International Symposium co-hosted by KU and the Embassy of the Republic of South Africa in Japan
On June 16, KU and the Embassy of the Republic of South Africa in Japan co-hosted an International Symposium entitled "Twentieth Anniversary of the Birth of Democratic South Africa and Youth Day" at Senriyama Campus.
Following a performance by a South African musician, Joseph Nkosi, who is active in Japan, the first lecturer Mohau Pheko, Ambassador Extraordinary and Plenipotentiary, explained youth educational issues in Democratic South Africa, which have continued after the abolition of apartheid in 1994. To narrow economic discrepancy and implement institutional reforms, she also appealed for the need to invest in education for training teaching staff, and improving their teaching techniques.
On the theme of establishing grass-roots level educational cooperation for the post-apartheid period, guest professor Naoko Tsuyama talked about the necessity of human development in country building. She recounted when she invited Nelson Mandela to Osaka, and also explained Mandela's efforts to reduce poverty and spread education. Additionally, she talked about her own experiences in supporting South African government initiatives to help community schools and job training systems with the aim of reducing of income gaps, and creating institutions for children with disabilities.
Professor Scarlett Cornelissen, University of Stellenbosch, talked about current status and problems of higher education from the perspective of the "university", while explaining the background of the African and South African experience, as well as unemployment among young people, and possible contributions by universities.
Responding to prior lecturers, Katsuhiko Kitagawa, Professor at Faculty of Economics, said it was meaningful for KU to hold the symposium as Mandela had visited Osaka and proposed to build a deeper relationship between South Africa and Japan. Furthermore, he stated the need to make further efforts in various fields as an institution of higher educational.
In the final panel discussion, participants at the venue asked questions based on panelist's lectures, and a lively debate and exchange of opinions ensued.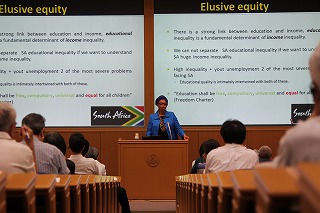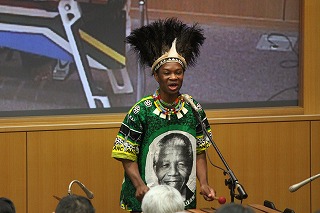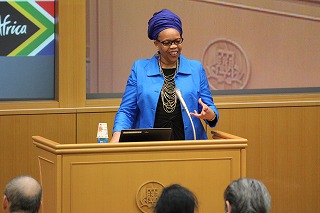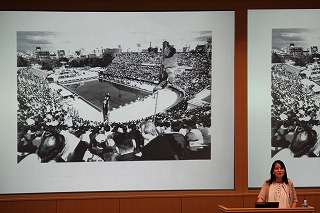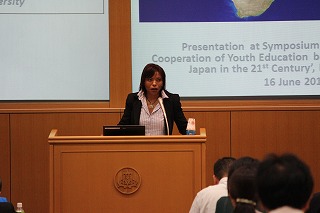 July 15, 2014 10:11 AM UP