Support Party for Sochi Olympic competitors Daisuke Takahashi and Tatsuki Machida
On February 15th, a support party was held at Senriyama Campus to cheer on the KU Ice Skating Club members, Daisuke Takahashi (Graduate School of Letters) and Tatsuki Machida (Faculty of Letters, senior), participants in Sochi 2014 Winter Olympics.
Although the gathering started from 2:00am, a total of 350 excited supporters consisting of KU students and staff filled the venue well before the competition. The supporters started to shout the names "Machida" and "Takahashi" just before and during their performances, and at applauded enthusiastically at every successful jump and turn. The atmosphere was electric. Two members of the KU cheering squad in Sochi also send supported the competitors wearing traditional haori-hakama and geta-baki clogs.
Machida and Takahashi placed 5th and 6th respectively. The venue erupted in applause for their splendid achievements. KU President Harushige Kusumi and the Vice President Isamu Kuroda praised two competitors and concluded the vent by stating "We are extremely proud of them!"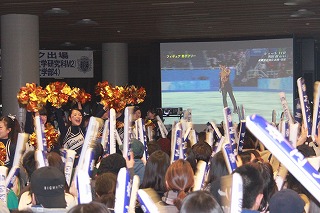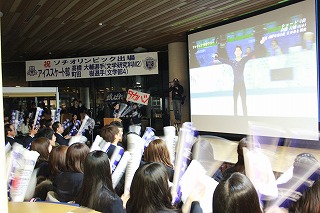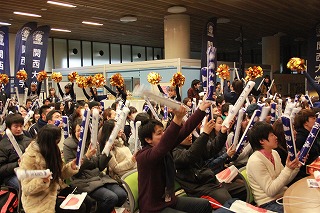 February 24, 2014 11:34 AM UP