Japanese Language Teachers Visit KU from Australia
Through the Australian Government short-term overseas study program called Endeavour Language Teacher Fellowships (ELTF), fifty-one Australian participants took a three-week Japanese language and culture program at our university. The program started from January third and will be ended on the 23rd. The participants of the ELTF program are Japanese language teachers and trainee language teachers in Australia.
As well as studying in the classroom, they visited Japanese elementary, junior high and senior high schools, and also attended the Coming-of-Age Day ceremony in Suita City to experience Japanese culture.
On the 17th, they had another fun opportunity to learn about Japanese culture at Senriyama campus. Dressing in Yukata (kimono worn on informal occasions) the Australian teachers had lectures about how to put kimono on, and also learned the traditional Japanese dances "Nihon Buyo" and the Bon festival dance together.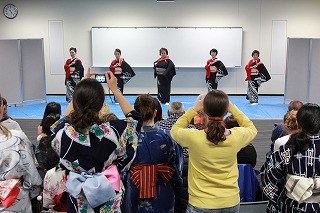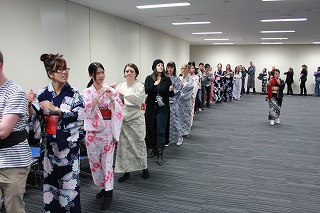 January 23, 2013 11:11 AM UP