2011 Sakai City Marathon
On April 29, the 2011 Sakai City Marathon, in which Kansai University cooperated, was held in Daisen Park, Sakai city. Approximately 6700 citizen runners participated in the four races ranging from a 2.5-kilometer to a 10-kilometer course.
Mr. Harushige Kusumi, the President of Kansai University, entered the 2.5 -kilometer family marathon and completed the race.
A number of students from the Faculty of Health and Well-being also participated as volunteers to support the event.
2011 Sakai City Marathon's Website (Japanese Only)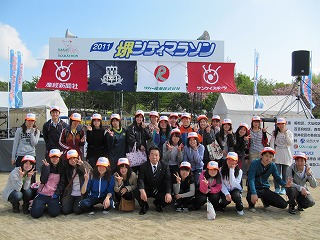 May 20, 2011 03:20 PM UP