Exchange Students Participated in the Fall Festival
On October 24th, thirty international exchange students of Kansai University participated in the Fall Festival at Hata Tenmangu Shrine in Osaka, where the god of academic achievement, Michizane Sugawara, is enshrined.
In this annual festival, male students experience carrying the mikoshi wearing happi coats of "Shibuki-Kai," a group that conserves traditional events in Shibutani area. Unfortunately, the mikoshi parade was cancelled due to rain this year.
After the festival, Mr. Khalid Abdul Qaadir from the United States, Ms. Naeun Park, and Ms. Yun Jung Kim both from South Korea, performed Nihon Buyo, the classical Japanese dance, and Mr. Matthew Crecelius from the United States played the shamisen to express their gratitude.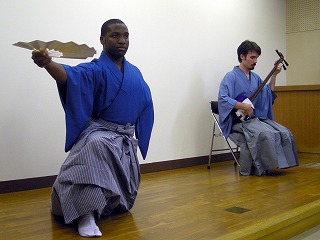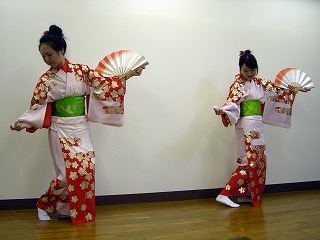 November 16, 2010 04:14 PM UP