Collaborating with a Junior High School in Lessons
As part of their junior high school and university partnership, Kansai Univ. 1st Junior High School and Kansai University School of Law held a mock trial in the Faculty of Law's classroom modeled on a courtroom, giving the students an opportunity to learn a citizen judge system.
Under the direction of Professor Hiromu Kurihara and the graduate students, the junior high students played roles, including a judge, citizen judge, prosecutor and lawyer in the mock trial, using some devices utilized in an actual citizen judge trial such as a TV monitor for presenting evidence.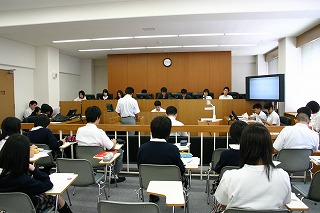 September 11, 2009 09:43 AM UP