Extramural Lecture Held in Collaboration with Two Universities
On July 18, Kansai University held an extramural lecture in collaboration with Osaka City University and Osaka Prefecture University to commemorate a comprehensive collaborative agreement concluded among those universities. Under the agreement, the three universities, located in Osaka Prefecture, intend to enhance mutual cooperation in various fields.
Tadao Ando, an architect and visiting professor of our university, gave a keynote speech on the theme of "Waterfront and the City".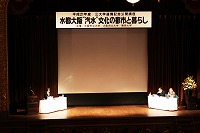 July 24, 2009 10:00 AM UP