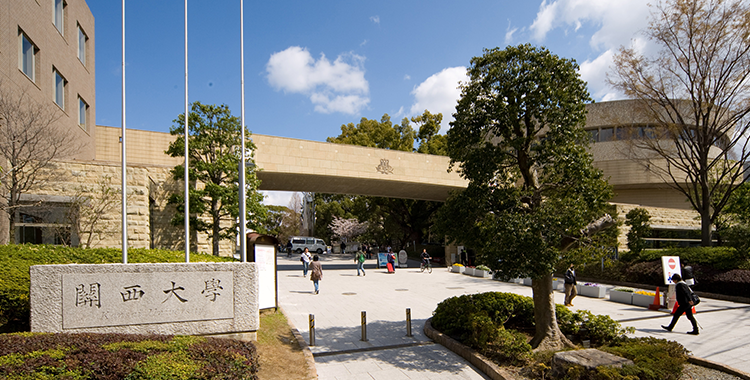 Faculty of Sociology
Graduate School of Sociology
Faculty of Sociology
The Faculty of Sociology has four majors—sociology, psychology, media studies, and social system design—with approximately 60 full-time faculty members engaged in unique research. Many professional courses that use research results can satisfy your intellectual curiosity. Each major, with its unique perspective, analyzes contemporary society and the people who live in it, and all majors take an approach that emphasizes both "theory" and "practice." Please see below the features of each major:
Sociology Major
Love and romantic relationships, fashion or popularity, abuse, declining marriage rates, social discrimination, global environmental issues, and more topics are covered in this major. We live our daily lives surrounded by various social phenomena. In some cases, we may be directly involved in these phenomena, and others, we may know through the media.
In this course, students study the social mechanisms that cause the social phenomenon they want to specialize in. They also study that different societies have different social mechanisms and thus different social phenomena. To pursue such studies, students learn various theories and methods, including empirical surveys and statistical analyses.
Psychology Major
Have you ever wondered what is going on in the minds of people or your own? Have you ever wondered, through your own experiences or the media, why people behave the way they do or why people have mental disorders that cause distress and depression? These simple questions about our minds are crucial but difficult to comprehend.
The purpose of psychology is to understand the mind. It is necessary to research from a broad and unbiased perspective. In the Department of Psychology, students study the mechanisms of the human mind and behavior from various perspectives, focusing on individuals, groups, and society. In addition, they learn scientific methods for understanding the mind by engaging in empirical analysis based on advanced computer-based information-processing technology.
Media Studies Major
Traditional mass media such as newspapers, broadcasting, and publishing have undergone radical changes in the Internet era. The Internet has also changed the way people communicate. Popular media cultures, such as music, advertising, sports, and tourism, have also entered a new development phase. The Media Studies major offers a diverse and broad range of courses in four areas—journalism, Internet communication, advertising, and public relations—to help students understand these contemporary media phenomena and their changes. In addition, the department strives to nurture "future media professionals" with flexible ideas and the ability to take action.
Social System Design Major
The Social System Design Major provides students with the education to acquire practical skills to solve various problems in modern society, using interdisciplinary perspectives.
By integrating the perspectives of sociology, economics, business administration, and science through social systems theory, this study addresses varied issues.
In particular, based on knowledge regarding the structure and functions of companies, education is imparted to design and build a better society and organization. This major provides students a solid knowledge of business and information processing skills and actively addresses a broad range of issues in modern society.
Graduate School of Sociology
The Graduate School of Sociology has the following three majors: sociology, social system design, and mass communication. Students are introduced to a comprehensive curriculum of theory and practical knowledge in all aspects of society and media. Continuing from the content taught in the Faculty of Sociology, graduate students investigate an array of subjects, including social theory concerning lifestyle, group dynamics, social attitudes and behavior, social history, technology, and more. Students enhance their research and presentation proficiency and conduct independent research while attending lectures, seminars, and practical laboratories. Graduates are highly sought after in research centers, governments, industries, and schools. Please see below the features of each major:
Sociology Major
Sociology, which seeks to comprehensively, logically, and objectively analyze a complicated society formed by the influence of various factors, is becoming even more essential in today's increasingly complex world. There are two courses in this field, a subject research course and a specialized research course. The subject research course is for those who acquire sociological analytical skills and social research literacy and aim to contribute to the real world at a higher level. The specialized research course is for those who aim to become researchers in sociology. Although the goals are different, both are courses where one can comprehensively acquire sociological abilities such as problem-finding, logical thinking of causal relationships, data collection, and data analysis.
Social System Design Major
The purpose of this major at the Graduate School of Sociology is to decipher a modern society and discern its better design. An interdisciplinary approach that combines sociology, economics, business administration, and technological theory, is emphasized. Further, the complex mechanisms of global and changing modern societies are analyzed. Using this approach, we not only analyze societies but also focus on incentives, human development, technologies, risks, organizations, communities, social networks, and governance. In addition to learning specialized knowledge, practical research is conducted to propose new social designs. The problems studied originally within individual majors are approached in the conventional academic system from a wide range of specialized fields.
Mass Communication Major
Media plays a crucial role in modern society. Given that the media environment is changing rapidly, it is imperative to thoroughly understand the relationships between media and society, media and culture, and media and people. Aiming for a diverse and essential understanding of these fundamental issues, the department offers journalism courses that cover mass communication theory, media history, information law, and international journalism, as well as media and culture courses that cover advertising, music, sports, gender, and cultural representation. In addition, there are seminar subjects to enhance individual research skills and practical subjects to study research and production, aiming to bridge theories and practices.