2022.01.13Seminarsinformation
Gateway Seminar Series #6: Shinnenkai - Welcoming a New Era of International Learning and Engagement
IIGE and Gateway International Group kicked off the new year with the 6th session in the IIGE "No Turning Back" Professional Development Series on January 12, 2022. This session, titled, "Shinnenkai: Welcoming a New Era of International Learning and Engagement" brought together a panel of professional senior international educators located in various regions in Asia (Japan, Taiwan, Brunei, India, Malaysia, Hong Kong) to get a sense of how international higher education is being shaped and where it is headed in 2022.
Panelists shared key insights on recent developments in student exchange in their respective regions, from policy to future goals, followed by a round-robin Q&A facilitated by Dr. Anthony Ogden and Dr. Keiko Ikeda.

Some of the key takeaways from the webinar...
"[Students] were ok with virtual learning, they could cope with it well, but there were issues of Zoom fatigue and meeting fatigue and that's a serious challenge. For the educators, we might see them for three hours but they go attend another class for another two hours and then anther class and I think that's very challenging on them. It's important to inform the educators that a virtual classroom is not an online version of a physical classroom. So for the educators as well they must revamp their courses and their programs to be adaptable for the students." - Abdul Latiff Bin Ahmad, Ph.D. (Malaysia) Director, International Relations Centre (UKM Global); Associate Professor, Universiti Kebangsaan Malaysia
"This is a good time for us to think about what is international education... Virtual exchange is a good way for us to observe the students' response in how they do their learning and engagement in different countries. Virtual is actually not an alternative to a physical classroom but is an innovation for us to ask how can we add more innovation to our programs." - David Au, (Hong Kong) Project Manager, VolTra
"We conduced a survey at the end of the first semester of 2020 and at that time students indicated that they prefer in-person classroom learning, however, they found the online learning experience quite effective for some types of learning. 70% of classes should be offered in-person and then 30% can be offered online, that was the conclusion from the survey... Because of the education ministry policy to encourage in-person education we have been keeping in-person learning opportunities because that's what most of the students want to have, but we have been offering 30% of courses online. The only problem is that there are still some international students taking online courses and because of the time differences some students have a very difficult time adjusting. Another problem is that students cannot graduate with an undergraduate degree by taking more than half their courses online, so we have to really think about the long-term effectiveness of education for out students and we might have to change the rule, which takes time. Certainly this has been a challenge, but it has been an opportunity to change our educational approaches among Japanese universities." - Masahiko Gemma, Ph.D. (Japan) Director, APAIE; Professor and Vice President for International Affairs, Waseda University
"Practical courses like culinary arts and journalism where students have to actually need to work with the equipment, those are the kinds of challenges are the ones we face. After the government allowed, we actually started having 50% capacity for these practically-oriented courses, but the physical connect, with other students and faculty, is something that students do miss." - Swati Sahasrabudhe (India) HEAD-International Initiatives, Symbiosis Centre for International Education
"One theme that I've noticed is a concern for the mental wellbeing of students. It's remarkable how much effort has been made globally to address what feels like a mental health crisis among young people around the world exacerbated by the pandemic. The study abroad experience is not quite as immersive as it was say 30 years ago because they're bringing "home" with them on their laptops, but they also bring their problems, in other words the stresses or worries that they had back home...it's harder for them to go into a new world...so we have to support them as part of their ongoing personal development." - Randal Nadeau, Ph.D. (Taiwan) Executive Director, Fulbright Taiwan
"It is very difficult to replicate [the in-person mobility experience] online, but we do the best that we can with the technology that we have available to try to immerse them as much as possible into the culture. There's a sense that students are waiting for the pandemic to somewhat end so that they can get their opportunity to go overseas, so I think that explains some of the reluctance from our students to join online programs. It is challenging...because there's a sense that it's not as good as the physical programs, but...it fills in a gap for those that rae perhaps unable to go overseas." - Sabrina Daud, Ph.D. (Brunei) Director of Global Relations, Universiti Brunei Darussalam
"I think in many ways we really ought to remember [virtual exchange] is a different modality with a different pedagogy for a different type of outcome. If we anticipate the same outcomes across modalities I'm not sure that that's achievable. Now that said, can one have deep, meaningful intercultural learning in an online space? Most certainly. And will students in the future light up about their experiences? They will. But I think we just have to be very mindful." - Anthony Ogden, Ph.D.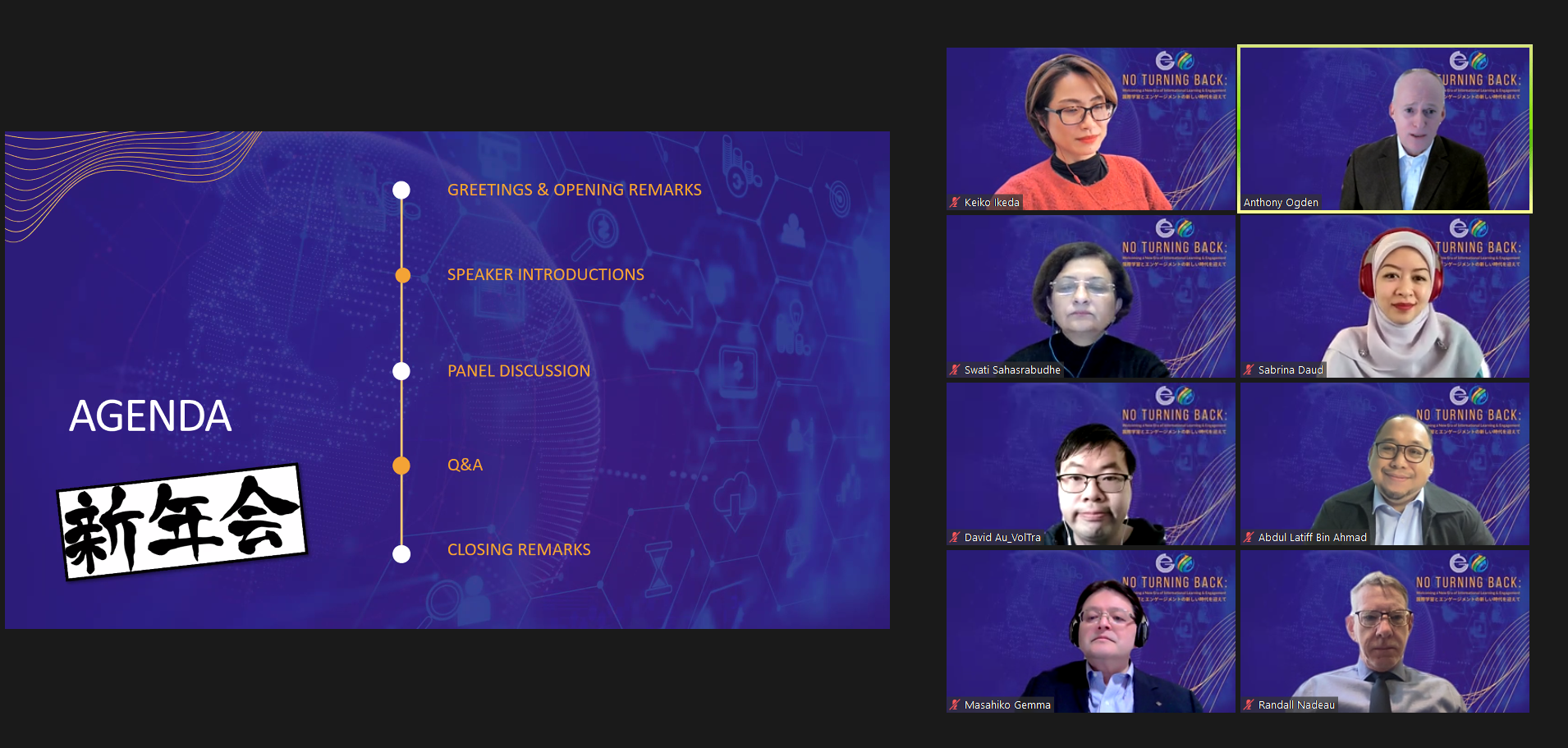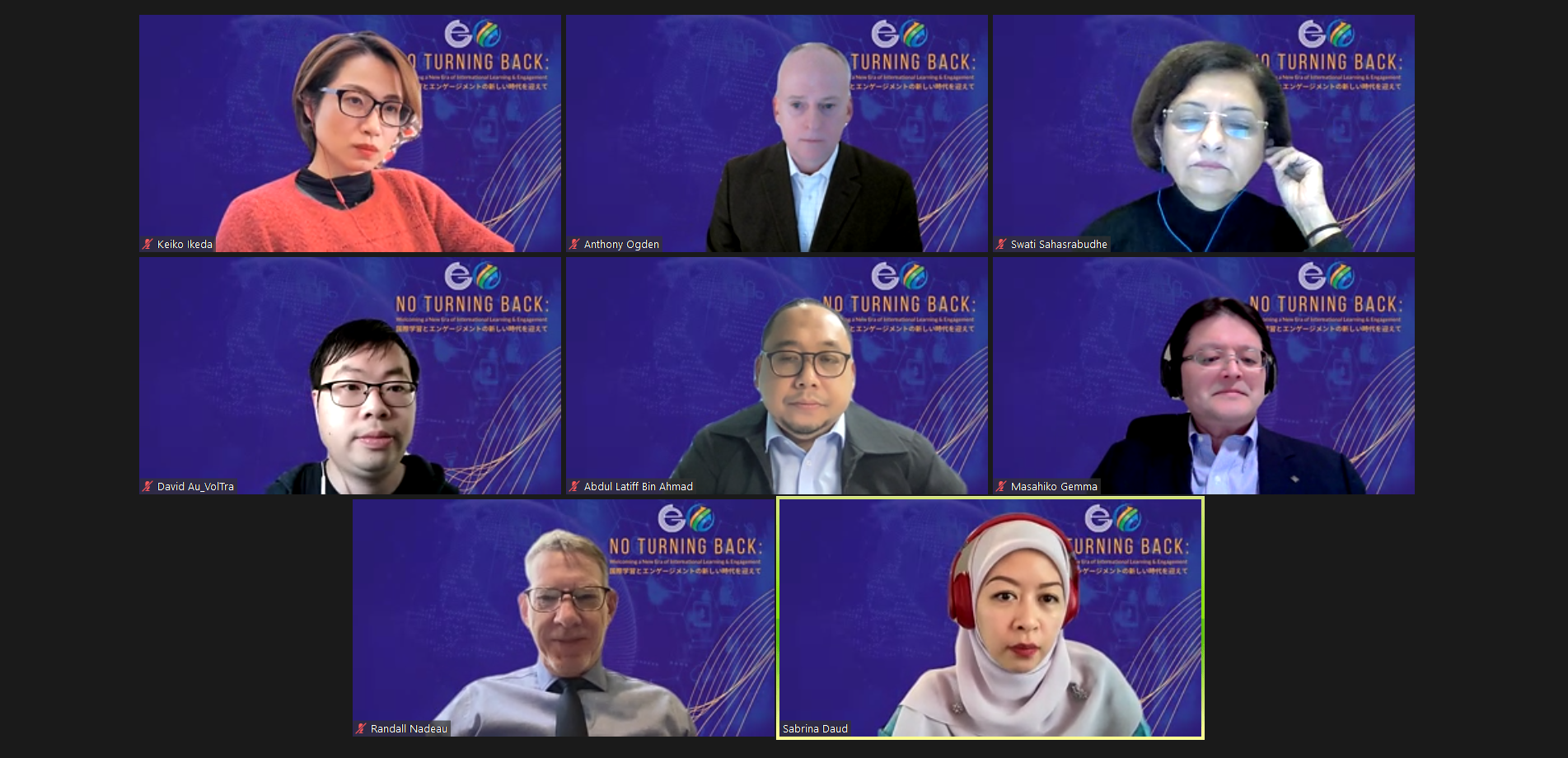 To view the on-demand recording of this open webinar event, fill out the form below:

https://docs.google.com/forms/d/e/1FAIpQLSfzNblKLBMHilRteka0qeD8oJD3GYMb0ct_PwqeGZVA9jd-eg/viewform?fbzx=-7981059465441149840


For more information on this professional development webinar series, visit:
https://www.kansai-u.ac.jp/Kokusai/IIGE/webinars/detail.php?seq=240
https://www.kansai-u.ac.jp/Kokusai/IIGE/webinars/detail.php?seq=228
https://www.kansai-u.ac.jp/Kokusai/IIGE/webinars/detail.php?seq=224
https://www.kansai-u.ac.jp/Kokusai/IIGE/webinars/detail.php?seq=202
https://www.kansai-u.ac.jp/Kokusai/IIGE/webinars/detail.php?seq=188