2023.09.04アドバンストプログラム
Announcing KU-EOL Fall 2023 Kansai University Online Program
Dear Valued Colleagues,
Kansai University/IIGE is pleased to announce the upcoming Kansai University Engaged/Exchange Online Learning "KU-EOL" Program Fall 2023, for students from KU and IIGE partner institutions to take part from October until the end of December 2023 (JST).

The official program booklet below outlines in detail the content, schedule, and application process for the program.

The call for applications is now open, with a deadline of September 25, 2023 (the application form can be downloaded below).
Program Overview - What is KU-EOL?

Originally launched in 2020, this program allows students outside of Japan to participate in selected courses offered by Kansai University online and free of charge. Students from partner universities are invited to apply and join their KU peers to take part in interactive online courses and collaborative online international learning (COIL) projects. Fall 2023 courses will take place 100% online between October and December (10 weeks) and lectures are held once a week.

The following courses are offered as KU-EOL courses in Fall 2023:

- Japan in International Affairs
- Japanese Popular Culture
- Marketing in Japan
- Research Methods for Social Sciences
*PLEASE NOTE: KU-EOL is NOT an "exchange study abroad" program. The "exchange" element of this program refers to student-to-student discussion and interaction which takes place in the online classroom setting.

​※KU-EOLプログラムは、交換留学としてカウントいたしません。 本プログラムの「exchange」とは、オンライン空間で行われる学生対学生のディスカッションや交流のことを意味します。KU-EOLプログラムを修了した学生には、添付の参加証明書が発行されますが、その他の成績証明書(公式・非公式)、フォーマルレター、参加したことを証明する書類は発行できません。
Course Offerings Booklet & Application Procedure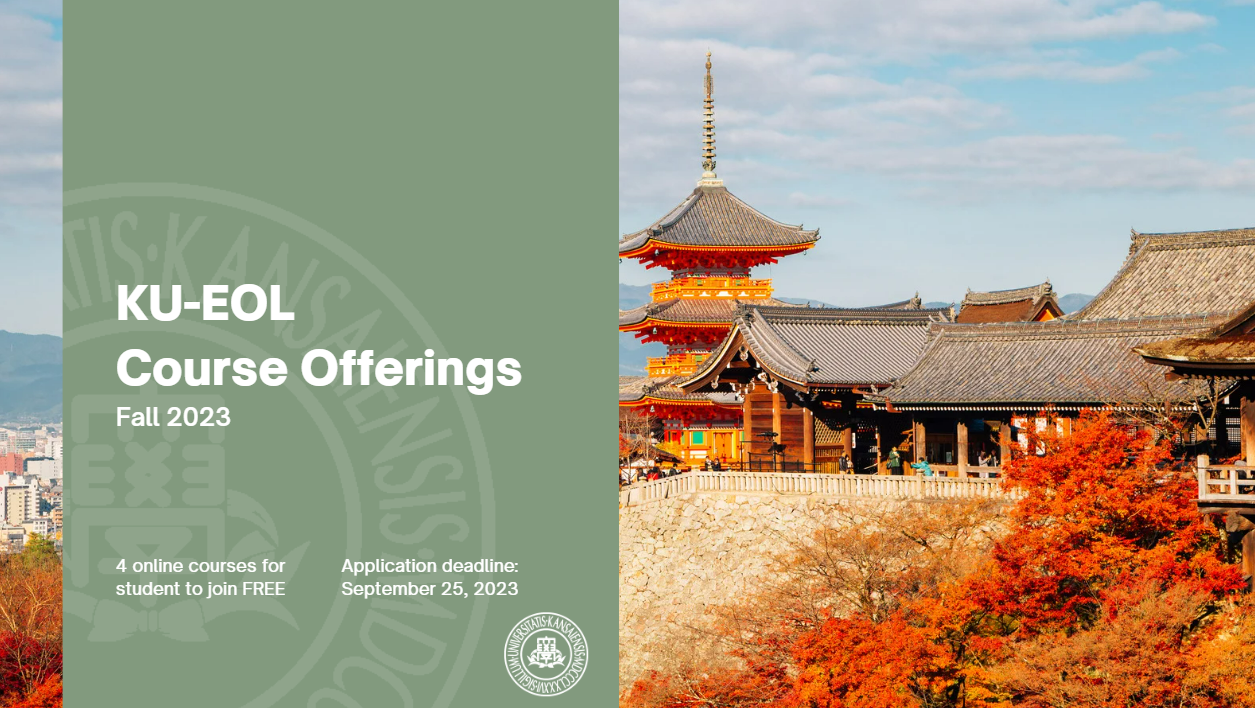 Download the KU-EOL course offerings booklet here
Download the application form here
Frequently Asked Questions (FAQ) can be found here

For other inquiries, please email ku-eol@ml.kandai.jp, attn IIGE Secretariat. clearly indicating in the subject line that your inquiry relates to the "KU-EOL Program Fall 2023"