Introduction of Campuses
Kansai University's main campus in Senriyama is situated 15minuets away by bike from Minami-Senri International Plaza where the Bekka is located. Each student will be issued with student ID to use facilities at Kansai University such as the library, IT center, and sports facilities. Also, students who satisfy the certain conditions can audit some classes in Kansai University's regular program, and join university club activities with prior permission.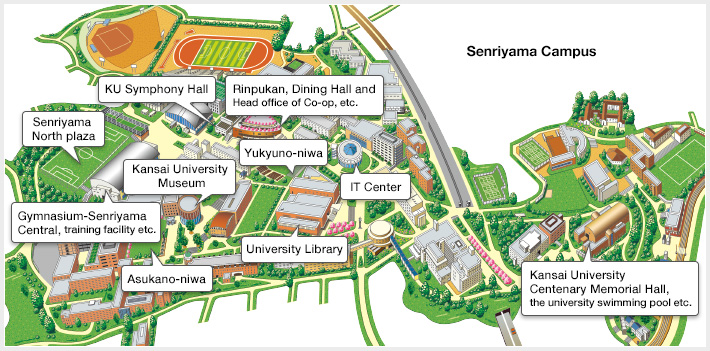 University Library

The present University Library was built in 1985 and has five stories, three stories above and two underground, and a total floor space of 21,750 square meters. The library contains top-class facilities and is considered to be large scale for a Japanese university. The number of books totals about 2,180,000, and the number of visitors through the year reaches about 670,000.

Gymnasium-Senriyama Central

The Gymnasiums has 3 arenas which have different intended purposes. On the first floor, the "Sub Arena A" can be used as a multipurpose area and training facility.

IT Center

The IT Center oversees the university's cutting-edge ICT environment, and supports learning and research activities. They have a large computer corner which is freely available for all students, and an IT consultation corner.

Kansai University Centenary Memorial Hall, the university swimming pool etc.

The university swimming pool is used mainly for a physical education and water sports clubs, and it is also open for individual use for a charge.
Kansai University Museum

The "Kanbun-kan" serves as the Kansai University Museum (KUM) and is the oldest building in Kansai University (registered tangible cultural property). In it are housed own about 15,000 items which include archeological, historical, folk objects, and permanent exhibits total about 700 items including 16 items classed as "important cultural property".

Mediapark RINPUKAN

The second floor of the "Rinpukan" has many seats in the student restaurant, and there are shops which stock textbooks, computers, amenities and cosmetics, travel agent, driver's license center, housing agent, and a beauty parlor on the third floor.

KU Symphony Hall

In 1962, an auditorium was constructed by the famous Japanese architect Togo Murano and was reconstructed as the Symphony Hall with 362 seats in 2006. It is expected to be used in a wide range of application such as university ceremonies and lectures as well as the extracurricular activities such as theater and music.

YUKYU NO NIWA, ASUKA NO NIWA, SENRIYAMA KITAHIROBA

Senriyama Campus contains many open green spaces such as the two gardens Yukyuno-niwa and Asukano-niwa, and also the Senriyama North plaza.
Other Campuses