2021.12.11Seminarsinformation
IIGE International Forum 2021 Day 1
IIGE kicked off the first day of its "International Forum 2021:Emerging New Modes of Next New Normal VE/COIL:
Uniting Asia, America, and Europe through IoE (Internet of Education)" on Friday, December 10th.

The Forum opened with a message from IIGE Director Takao Fujita, who welcomed the presenters and attendees, and highlighted the importance of looking toward the "next new normal" in international education, providing opportunities for students to pursue international experiences through new modalities, moving away from relying solely on mobility to address evolving needs in higher education.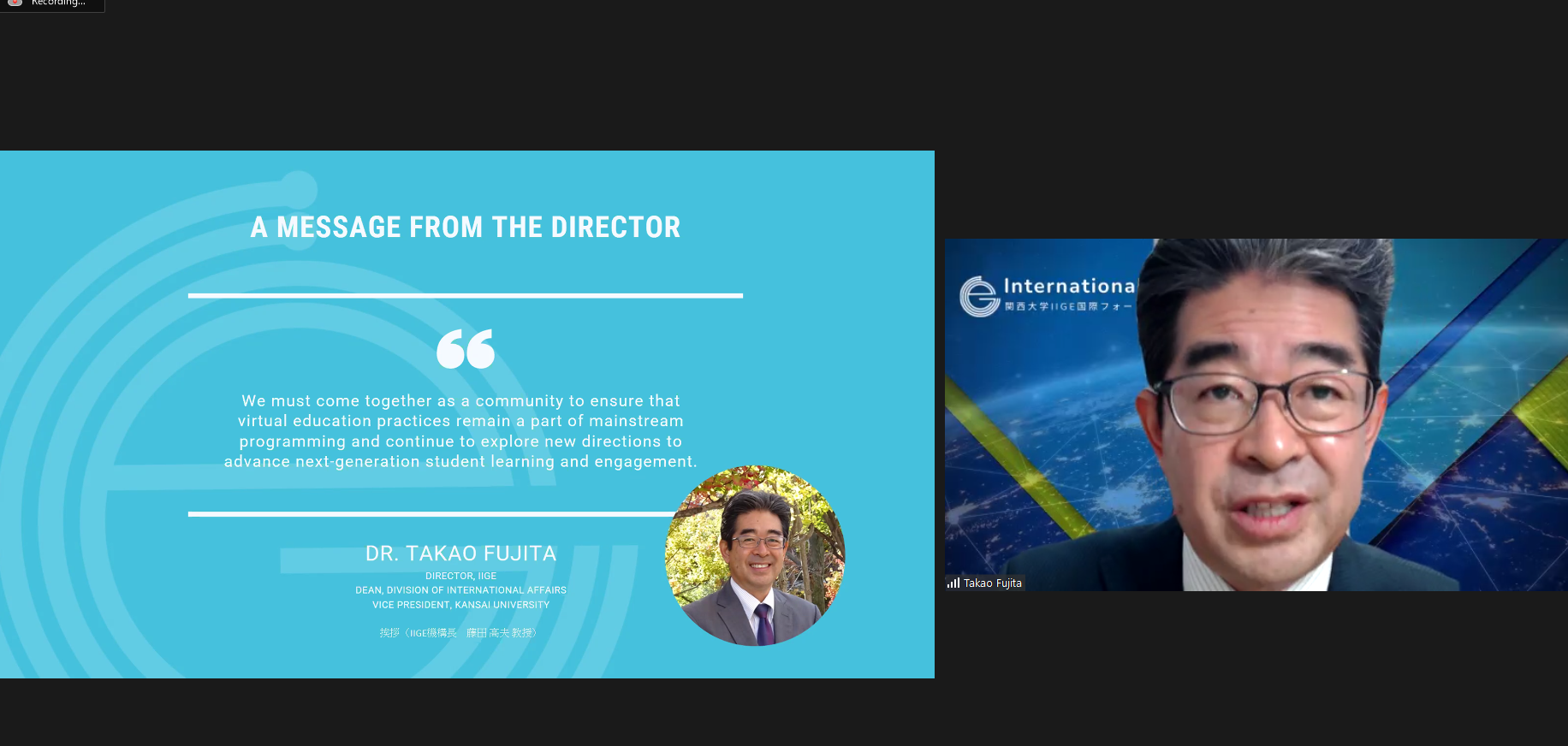 IIGE was also honored to host MEXT Chief Inspector for Schools LeaderOrie Kishimoto, who remarked on Kansai University's role as a leader in COIL-based education in Japan.

The first session, a round-robin panel discussion, featured speakers from across the U.S., Asia, and Europe (Brenda García Portillo, Universidad de Monterrey; Henry Shepherd Stevens Initiative, Aspen Institute; Darren McDermott SHARE; and Alexander Knoth, DAAD), who introduced their respective affiliated projects and fielded questions from ACE moderator Veronica Onorevole.
They engaged in a timely discussion on the current state of VE/COIL in various regions around the world, and offered insights into the future of international higher education on the following topics:
1. What got you first interested in doing work with virtual exchange/COIL?
2. Do you see virtual exchange/COIL opening up opportunities for students in your country/regions you work with? Do you have any evidence to share in this regard?
3. Are your programs reaching students who otherwise would not pursue a student exchange or study abroad experience? Is there evidence that a VE/COIL experience can lead to increased interest in study abroad and in person exchange?
4. What do you consider to be a high-quality VE/COIL experience? What kind of evidence do you look for as far as the impact of VE/COIL? (i.e., increased global competencies, diversity of learner types, strengthening partnerships/networks, faculty exchanges, research, etc)
5. The pandemic has for many countries exposed the digital divide within urban and rural communities, including within the higher education context. How are digital inclusion and equity issues being taken into consideration when it comes to your work?
6. In a post-pandemic world, what are your insights on what will happen with the demand for virtual exchange/COIL programs in higher education? And how do you see your work with VE/COIL changing (i.e., shorter/longer program durations, reductions/increases in funding, different evaluation focus/priorities)?
Some key takeaways from Session A are highlighted below:
"We have a real opportunity and perhaps an opportunity like never before to create a real, scalable critical mass of internationalization and exchange through VE/COIL. The appetite is defintely there, the willingness is there, and we need to ensure that we invest in the community, the community of pratitioners, the community of expertise, that exists in all countries and opportunities like today, like this discussion and the discussions that will follow I think are a great catalyst for that." - Darren McDermott
"The first step, we have it already, we're aware. We have the consciousness of the importance of VE/COIL activities. We need to advance to the second step--committment. Committment is the word, not only for faculty members, but also for institutions. We need to be committed to making this a reality and to be able to scale that." - Brenda
"For me, a really important first step is to find peers that you can communicate with regularly--whether you are an insitutional leader, whether you are a faculty member--who will help you find the resources or networks where ways to get involved in existing programs will crop up, becuase there are a lot of challenges when you try to build a whole new program from scratch and there are some cases where joining an existing network or joining an existing program could give your institution a first taste that will allow you then to learn about the landscape, learn about the context, learn about what's required to go to the next level and create your own hub or create your own center, or create your own community of practice. As true as it is that you need institutional buy-in to make this work, you also need to get started. You need to first try." - Henry Shepherd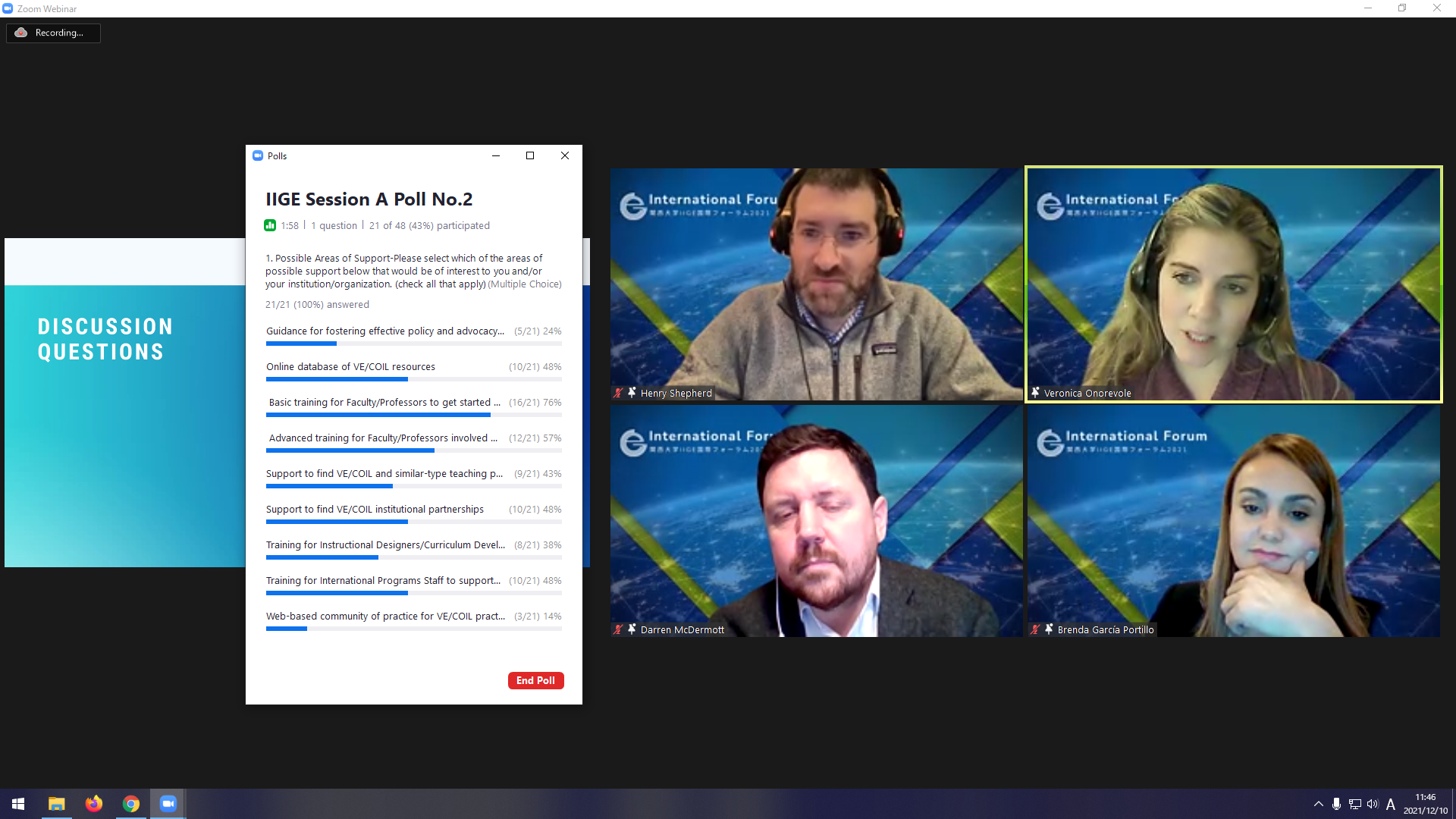 ***********************************
In the second half of the day, Dr. Craig Shealy and Dr. Hajime Nishitani for a workshop on BEVI and COIL Assessment, which ran in parallel to a COIL Matching Fair workshop moderated by experienced IIGE faculty.
Session B of the International Forum opened with a brief introduction by IIGE Coordinator Michele Fujii on behalf of Vice-Director Keiko Ikeda, whose message touched on the importance of using fair and appropriate assessment and evaluation that equally benefits students and its implications for the future of international higher education.
Dr. Craig Shealy, (Executive Director of the International Beliefs and Values Institute and Professor of Psychology at Western Washington University) and Dr. Hajime Nishitani, (Director of Japanese Operations for iBAVI and Professor of Law at Hiroshima University) began the workshop with an overview of the BEVI and its applications and implications, a breakdown of the measurement schema and how to identify meaningful or interpretable change, and the "Seven Best Practices" for implementing the BEVI for higher education evaluation in VE/COIL. Participants were also able to preview a real BEVI report and were walked through the meaning of several aggregates that apply especially to COIL projects (particularly sociocultural openness and global resonance). Participants also had the opportunity to ask the presenters first hand about "theory and psychometrics" and "application and practice" in an end-of-session Q&A.
To learn more about the BEVI http://www.ibavi.org/
and the Forum BEVI Project, visit https://eric.ed.gov/?id=EJ1071299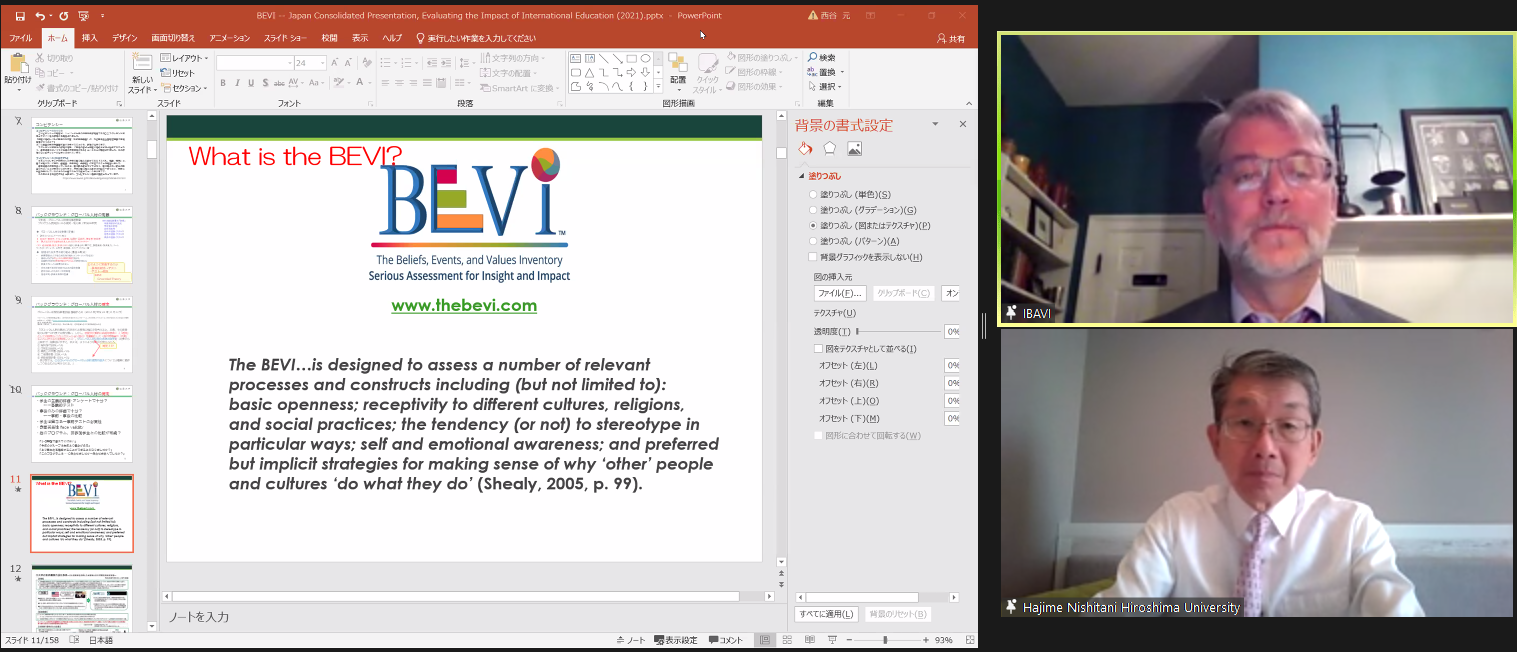 ***********************************
Session C, which ran paralell to Session B, featured a COIL Matching Fair, run by experienced IIGE faculty including Dr. Keiko Ikeda, Dr. Sajjad Pouromid, and Dr. Don Bysouth (Kansai University) was held in the second half of the day to provide COIL practitioners an opportunity to meet their future COIL partners.
Dr. Keiko Ikeda (Kansai University) began the workshop by going through the overview of the matching fair as well as explaining how the participants can make the most of the event. In the workshop, the participants were asked to choose which COIL type they are specifically interested in: Bilateral COIL/VE (1 Japan / 1 Overseas), Multilateral COIL/VE (3+ classrooms/institutions), Interdisciplinary COIL/VE , Intradisciplinary (same subject) COIL/VE, Language-Learning COIL/VE (LLC), General Education Fields, and STEM-related Fields. After selecting their COIL type, the participants were put into breakout rooms according to their preference in the COIL type. The members of each room were shuffled twice, which enabled the participants to meet different people in all sessions. In addition to the breakout rooms, hints for starting a collaboration were shared by Dr. Sajjad Pouromid (Kansai University), which included tips for finding a COIL partner and planning a collaboration. At the end of the workshop, the participants were asked to refer to the Padlet space created for the fair for important follow-up instructions, a downloadable partnership checklist, and other helpful resources.