We bring out children's high academic abilities and rich qualities by encouraging creative thinking
With the development of the "ability to think for oneself" as the core of our education, we at Kansai University Elementary School aim to develop the "ability to connect with the world" through integrated learning and enhance "exceptional academic abilities" through various subjects. At the same time, we place primary emphasis on the enhancement of rich interaction and human decency, whereby children are also encouraged to learn the importance of caring for others, as well as to learn social rules and manners.
To pursue our educational policy, we are committed to developing a unique and systematic curriculum that underlies our 12-year integrated education system, from elementary school to junior and senior high school, all of which are located on the same campus.
Educational Philosophy
The educational philosophy of Kansai University is "practical academia," which aims to achieve a balance of scholastic theory and real-world application. Under this philosophy, we provide a 12-year integrated educational program, from elementary school to junior and senior high school, to develop our young learners into strong and open-mind citizens with solid character, as well as high ethical standards and human decency.
School Motto

Ideal Student Model

Kansai University Elementary School helps every student to develop the ability to raise questions out of intellectual curiosity and the ability to think about how to address those questions. Our students also learn the importance of respecting themselves and their friends, having a strong sense of community, acting on their own initiative, and building a healthy and strong body; all of which is indispensable for becoming a well-rounded, self-driven individual.
With warm smiles, our teachers watch over and support the growth of each individual child.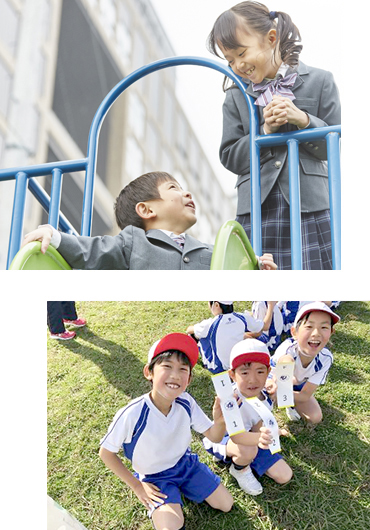 Enhancement of Thinking Power
We develop our students' ability to think by promoting their "thinking skills."
We emphasize the development of "thinking skills." In classrooms, teachers encourage children to think for themselves by giving specific instructions on how to apply these thinking skills, so that they know what is expected of them. Thinking skills refer to the processes of thinking and learning in a wide range of contexts. With the "development of thinking skills" as one of our behavioral objectives, we have infused thinking skills into the curriculums to educate children on how to become highly effective thinkers.
Number of Classes
The Number of Classes in Academic Year 2014
Total number of classes
Number of classes at Kansai University Elementary School
Standard number of classes (Government education guidelines)
Grade 1
942
850
Grade 2
943
910
Grade 3
1078
945
Grade 4
1098
980
Grade 5
1132
980
Grade 6
1138
980
Activities in English
Number of classes at Kansai University Elementary School
Standard number of classes (Government education guidelines)
Grade 1
58
0
Grade 2
60
0
Grade 3
105
0
Grade 4
105
0
Grade 5
140
35
Grade 6
140
35
Learning to Develop the Ability to Think
MUSE Learning Program
Providing "thinking skills" that are very useful throughout life
Our unique Muse Learning program focuses on systematically developing the ability to think. Students learn how to think, step by step, from the first grade to the sixth grade. In classrooms, young thinkers are encouraged to repeatedly tackle questions through two-way communication so that they can make full use of six major thinking skills: comparison, categorization, broad-ranging analysis, association, synthesis, and evaluation.
Library-based Learning
Building a core ability that serves as the foundation for learning
A reading class is conducted every week in school libraries, in order to provide our students with an opportunity to learn how to read books and how to use the information obtained. In class, children enhance their reading ability by talking about the books they read, answering trivia questions, and playing games, including organizing a story based on its plot structure. These activities also include the work of writing reports using an encyclopedia and a Japanese-language dictionary.
ICT Environment
Ensuring high-quality information education
We provide information education to help students develop the ability to collect and organize information, critical thinking and creativity skills, and self-expression abilities by utilizing computer terminals and networks. Classrooms are equipped with electronic blackboards and computers. Other learning tools include iPads (40 units for the first and second graders) and laptop computers (40 units for those in the other grades).
Learning to Develop the Ability to Connect with the World
English Education Program
Students are exposed to English and have hands-on learning opportunities from the first grade
We implement a six-year integrated English education program to cultivate comprehensive English abilities: listening, speaking, reading, and writing. Children in the first and second grades learn English for 15 minutes every morning (as part of Module learning) in an enjoyable way, and the third and fourth graders take 45-minute English lessons three times a week; the fifth and sixth graders, four times a week. Students also have various hands-on learning opportunities, including a school trip to Australia.
Integrated Study Program
Nurturing the ability to work together with people from around the world
We enhance students' awareness of social engagement and contribution through learning that promotes international understanding. In the integrated study class, students in each grade engage in research to learn about the culture and social conditions of specific countries or regions, including South Korea, China, Taiwan, the Philippines, India, Cambodia, and Australia. Children are also provided with opportunities to promote cross-cultural communication through practical activities, such as interacting directly with international students studying in Kansai University and communicating with people in foreign countries via teleconferencing.
Research Presentation
Disseminating information of our education activities that contribute to building children's thinking power
We have made public the educational methodologies we have developed so far, including MUSE learning and other methods of developing children's ability to think. We also hold an annual presentation meeting, with the aim of further promoting education and in the hope of contributing to class design for creative elementary school education. Our other activities include holding of open classes, conferences, and symposiums.
Enhancement of Exceptional Academic Abilities
Japanese language
In Japanese language classes, students read literary works, write a essays about themselves, and develop an understanding of written Japanese in order to foster logical thinking as well as cultivate sound, rich interaction, and human decency. Vocabulary is expanded and language skills (speaking, listening, writing and reading abilities) are enhanced through various class activities.
Mathematics
Our mathematics classes are designed to help children to learn how interesting mathematics is, as well as to develop intellectual curiosity and cultivate a positive attitude towards difficult challenges. Students are expected to acquire a mathematical way of thinking and the ability to apply their mathematical skills to other subject areas, including communication skills. In class, teachers help students to foster logical thinking power by solving problems in mathematics.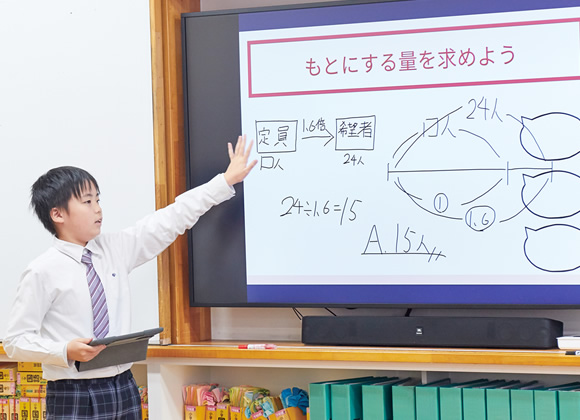 Science
In science class, emphasis is placed on prioritizing learning in which children come into close contact with nature and develop an understanding of natural phenomena through the pursuit of curiosity. For this purpose, classes are conducted centering on "observation" and "experiments." Students perform hands-on experiments that inspire curiosity and wonder, rather than manual-based experiments, through which they discover reasons for unknown natural phenomena, thereby cultivating a scientific way of thinking.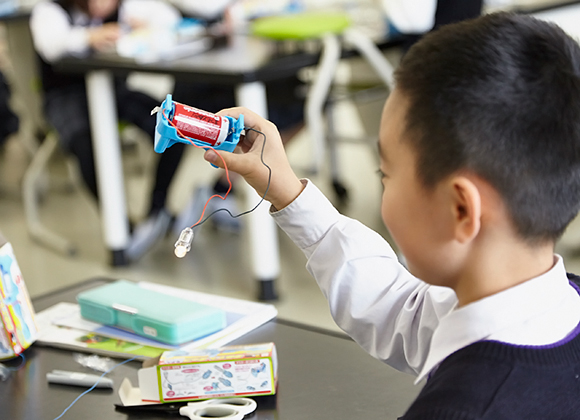 Social Studies
Our curriculum for social studies incorporates a lot of fieldwork and lectures delivered by guest instructors. Students in the middle grades of Elementary School have opportunities to visit a disposal center, filtration plant, local farms, and supermarkets to collect information and write reports. For those in the higher grades, various hands-on learning programs are implemented, including rice-planting experience, an auto plant tour, and a study tour to the Hiroshima Peace Memorial. Students are expected to develop an ability to look closely at social situations and actively participate in society, by organizing and analyzing the information collected through these activities.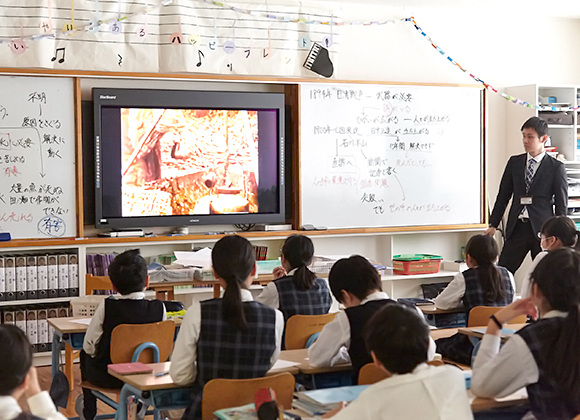 Life Environment Studies
Life environment studies, designed for young children to increase awareness of their neighbors and communities and to understand the importance of learning and knowing, is a subject that serves as a starting point for education. In class, children engage in a wide variety of activities, ranging from nature discovery led by nature guides throughout the year, to rich contacts with nature, and interaction with people from different cultural backgrounds. Individual children are guided to cultivate awareness and interest through these hands-on experiences.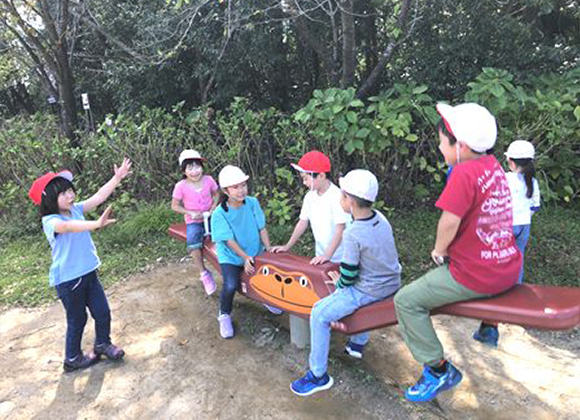 Music
Students start to practice singing in chorus from their early school years, through which they find pleasure and comfort in working together with one mind and finding harmony in mind and sound. Children are also asked to think about how they would like to express a piece of music, thereby activating their imagination and enhancing their power of expression. They also experience the joy of understanding and expressing music.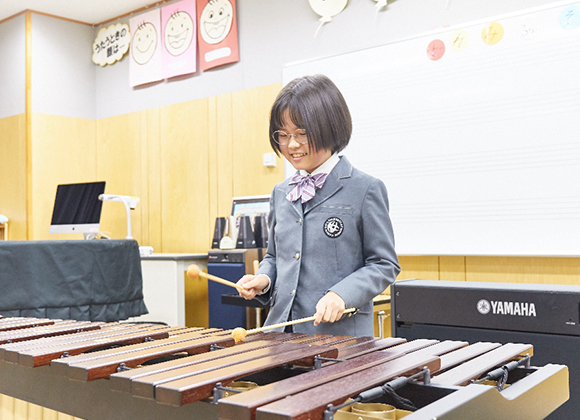 Physical Education
Physical education plays a vital role in enhancing athletic performance, building physical strength, and promoting the ability to think and act. This subject allows children to interact together to a common goal and develop cooperation and teamwork skills. Physical education also teaches the value of regular exercise to children. The physical training is conducted using our fully-equipped facilities, such as an artificial turf field, large sports arena, martial arts training hall, and heated indoor pool.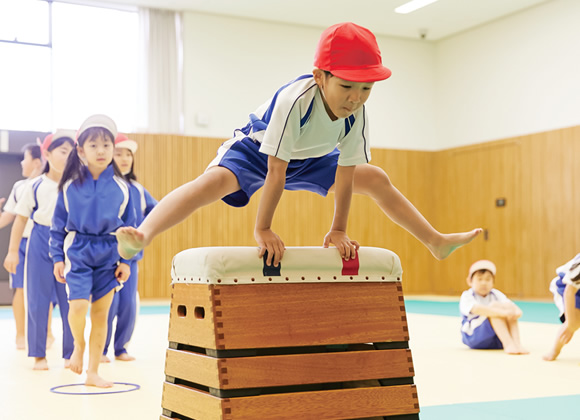 Arts and Crafts
Children develop such skills as observation, visual thinking, and sense perception through various arts and crafts activities that encourage individual differences. Children's ability to synthesize ideas, expression, and appreciation is synergistically developed by having discussions about what they think and feel about artworks, visualizing concepts in their mind, and expressing their individuality in artworks.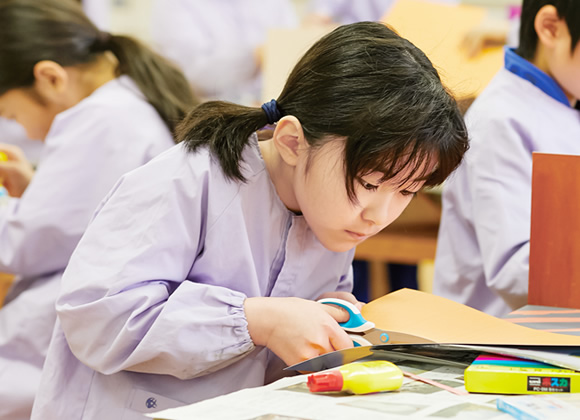 Home Economics
Home economics class deals with a wide variety of matters directly linked to home life under the catchphrase "Make life more affluent." Curriculums are designed for students to look at their families and family life, foster an awareness of being a family member, and enhance efforts to make their lives better. Children learn what is useful in everyday life in an enjoyable way.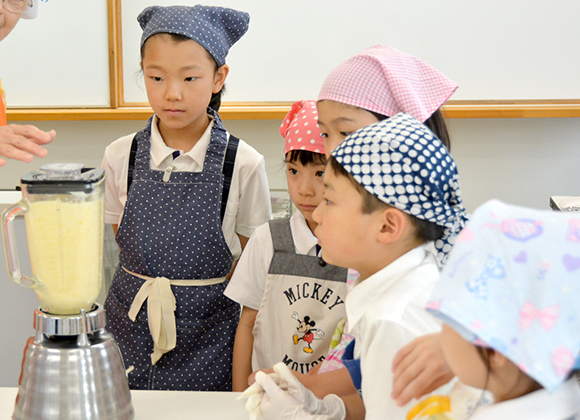 Moral Education
Children learn the value of life, appreciate consideration towards others, and develop a sense of right and wrong. Our efforts are also devoted to the development of unique materials to deepen children's understanding of themselves, as well as understanding other people and their different values; focusing on ways of life and thinking. Moral fiber is also strengthened by establishing the habit of exchanging greetings and taking responsibility for cleaning.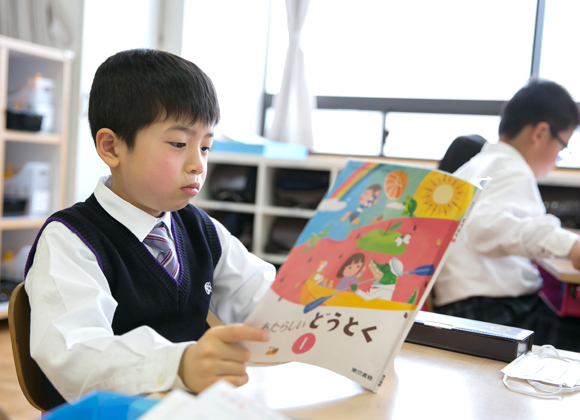 Module Learning
A 15-minute time slot in the morning is spent on studying Japanese, mathematics, and English. First and second graders learn English joyfully, mainly from a native speaker. An effective combination of English learning and various physical movements, such as jumping or running on the spot, helps to energize their minds. Those in the third grade and higher also engage in module learning, which contributes to a more rapid and secure accumulation of knowledge. The activities include reading aloud and quizzes.
Sleepover Program/Hands-on Learning Activities
Children from the first to third grades stay in the Kogakukan seminar house, located in the Takatsuki campus. They experience various activities in a natural environment, including hiking, playing in the river, and fostering a spirit of friendship. Fourth graders ski in Inuyama, Aichi Prefecture. Fifth graders experience farming and fishing in Minami-Awa, Tokushima Prefecture. Students in the sixth grade go to Australia for their school trip, where they enjoy cross-cultural exchanges. This program provides students with a wide range of hands-on learning activities.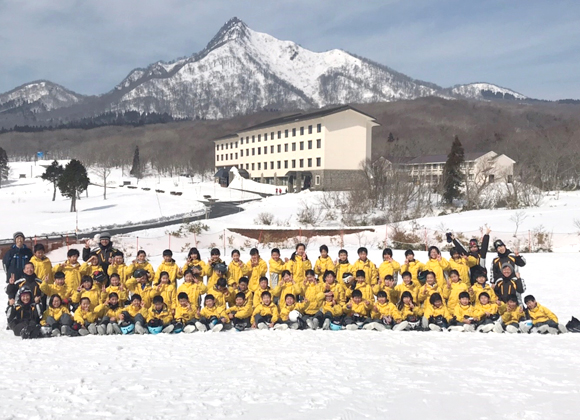 Inter-grade Activities
We encourage children to interact with those in different grades and schools (Kansai University Junior and Senior High School) and develop closer relationships with others, through various activities (during lunchtime and playtime, going home in groups, etc.). For instance, you can see sixth graders playing with first and second graders during lunch break.