Developing individual students' aspirations and their ability to think and act for themselves
Kansai University Elementary School is committed to fostering children's ability to sense, think, and act. During the course of learning, children are challenged to understand the purpose of study, to investigate and pursue answers to their own questions.
We provide a six-year educational program that fosters children's aspirations and develops their potential so that in the future they can play an active role on the global stage.
We look forward to providing your child with the very best learning experience.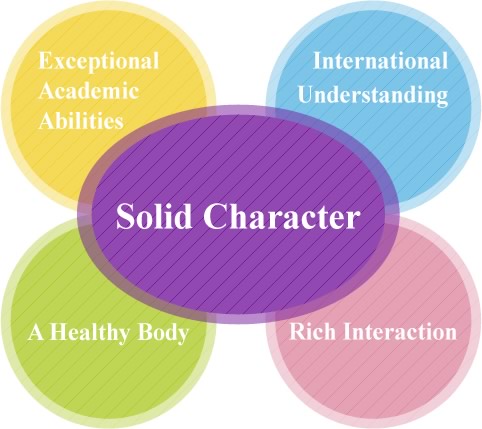 Exceptional Academic Abilities

Developing the ability to raise questions based on intellectual curiosity, and to think about how to address those questions
Acquiring basic academic knowledge and skills

Modular learning
MUSE learning
Learning focused on cultivating the ability to think
International Understanding

Fostering the ability to contribute to international cooperation and global peace by expanding personal horizons and promoting understanding of diverse cultures and perspectives
Developing the ability to communicate with students overseas by making effective use of English proficiency acquired in class

Exchange programs (home and abroad)
Intercultural communication experience
A Healthy Body

Developing the ability to find pleasure and joy in physical exercise and making consistent efforts to be physically active by having definite goals, through programs suited to the individuals' stages of physical and emotional development as well as through programs that promote healthy life habits, including dietary education

Nutritious school meals
Overnight sleepovers in every grade
Programs that develop physical strength (endurance running, jump-rope, etc.)
Rich Interaction

Developing an appreciation of the importance of interacting with people and nature by cultivating an active and positive attitude toward life, through various social interactions and exposure to the natural world.

Activities with children in different grades and schools
Art appreciation programs and overnight sleepovers
MUSE Club
Solid Character

We develop children into pupils who are enthusiastic about learning, who respect and inspire each another, and who are instilled with high ethical standards as well as human decency.
Message from the Principal
Greeting from the principal
We believe Kansai University Elementary School is an institution where we prepare students for the future. It is where students take their first steps in becoming global leaders. It is a school where students learn how to enrich their lives through learning; nourishing them with great aspirations before developing them into responsible members of society. We achieve this by nurturing our students through sound academics; education that promotes international awareness, self-expression, as well as the strengthening of their physical bodies. Our aim is to create individuals with the highest ethical standards, possessing strong dignity. The elementary school's motto, "Taking action – Developing high ambitions through learning," incorporates such an aim. "Taking action" does not mean to passively improve their studies, but to apply their knowledge to further improve and grow. We aspire each Kansai University Elementary School student to think for themselves, to be able to express their thoughts, and to always wish to take on challenges.
Since the inception of our school eleven years ago, on top of improving our students' academic skills, we also incorporated activities and an environment to further enrich them mentally and physically. Our basic education curriculum is complemented with Muse Learning, lessons where students learn how to think and how to apply these strategies in their subject classes. Students also have opportunities to participate in hands-on international exchange activities with students from various countries. Our English education also focuses on both communicative skills as well as the use of ICT. In addition, as a designated Apple Distinguished School since 2018, we have provided an ICT environment that facilitates learning. Not to mention the students have access to numerous resources available from our two libraries.
Looking ahead, the teachers and students together, will continuously strive to ever increase value to our educational content, as we aim to become the foremost elementary school in Japan. Last but not least, in late 2019, our school's first group of enrolled students, graduated from our university's attached high school. In the future, it is my hope that these graduates, from the experiences and knowledge gained from our elementary and secondary schools, will play an active role in society and in their careers.
Motoi Nagato
Principal of Kansai University Elementary School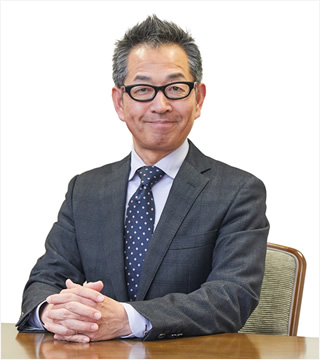 Main Objectives of Our Integrated Education
1.

Enhance "exceptional academic abilities," "international understanding," "rich interaction" and "a healthy body" in a balanced manner, according to each individual's stages of physical and emotional development, by taking full advantage of our 12-year integrated education program provided on the same campus.

2.

Develop the ability to think and act for oneself, apply acquired knowledge in practical situations and turn it into wisdom, by conducting experience-oriented classes that encourage pupils to identify challenges and resolve them.

3.

Foster "strong" and "flexible" human resources with a broad vision and a good sense of balance to explore a path of coexistence, while respecting diverse values.
School Songs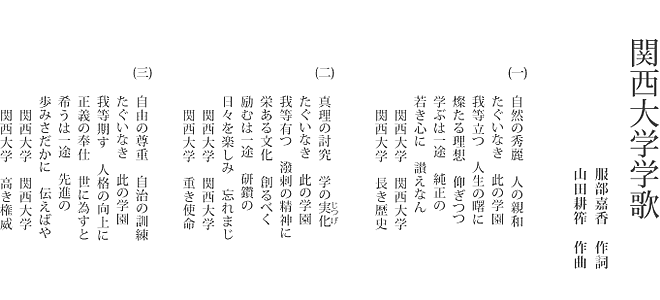 Kansai University's Official Song
Kansai University Elementary School Song

School Song for Ongoing Generations
Kansai University Elementary School, Junior High School and Senior High School have always shared Kansai University's official school song. However, in April 2010, a new song was composed for the elementary school, with the hope that our children will develop a deeper emotional attachment to the school and fully enjoy their school life. The score to our school song was composed by a high school teacher at Kansai University Senior High School, while the lyrics were created by a project team consisting of third graders who represented our school's most upper grade at the time. The students tirelessly discussed the school vision and spent considerable time in selecting appropriate words. The result of their hard work became Kansai University Elementary School song, titled "Kokoro wo hitotsuni,"or "Make our hearts one."
In the 2011 academic year, the second verse of the school song was created. Our students sang this song during our entrance and graduation ceremonies, as well as during other various events such as our school cultural festivals and athletic meets. We believe that this song, along with Kansai University's official school song, will continue to be sung for generations; the thoughts and hopes preserved in the song will remain true and dear.
Basic Information
General Information
Name
Kansai University Elementary School
Address
7-1 Hakubai-cho, Takatsuki-shi, Osaka
Principal
Motoi Nagato
Establishment
2010
Size
Total number of pupils: 360
Number of classes: 2 classes in each grade
Class size: 30 pupils
Payment
*1, 2
Tuition

Admission Fee: ¥300,000
Tuition: ¥800,000
Facility fees: ¥200,000

Other fees:

Miscellaneous fee: ¥52,000
School meal fee: ¥100,000
Education support association enrollment fee: ¥2,000
Education support association fee: ¥10,000
*1:

Tuition and other fees for Academic Year 2016 are yet to be determined. For reference, the fees for the previous year have been provided above.

*2:

Additional fees for school uniform and a school trip reserve fund are also required.