施設概要
Overview
3-3 Tsukumo-dai, Suita-Shi, Osaka 565-0862
Capacity: 144 residents (single occupancy room ※some double occupancy rooms available)
Residence Period : 1 year
Building: Reinforced concrete, 5 story building
Security: Self-locking doors. Dormitory manager is available 24 hours a day / 7 days a week.

Shared Facilities
Room furnishings
※ Grayed-out facilities and amenities are not available.
Example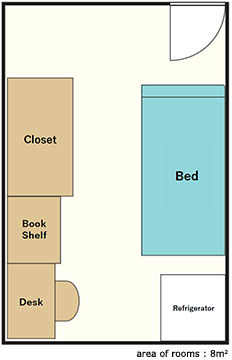 入居費用について
Fees
Entrance Fee

JPY15,000

Deposit

JPY 30,000 (upon check-in)
*One month's dormitory fees will be collected for the security deposit.
(The deposit will be applied to the last month's dormitory fees.)

Dormitory Fee

Single occupancy room: JPY 30,000 per month
*Electricity, gas, water, internet, and linen leasing fee are included.

Meal Cost

Meal plans not available (shared kitchens are available for cooking)

Bedding Fee

Included in dormitory fees
※ The above entrance fee, deposit, dormitory fee, and bedding fee are at current prices.
※ The above fees are subject to change.