施設概要
Overview
1-2-20, Satake-dai, Suita-shi, Osaka 565-0855
Capacity: 169 residents (single occupancy room)
Residence period: 1 year
Building: Reinforced concrete, 8 story building
Security: Self-locking doors. Dormitory manager is available 24 hours a day / 7 days a week.

Shared Facilities
Room Amenities
※ Grayed-out facilities and amenities are not available.
Example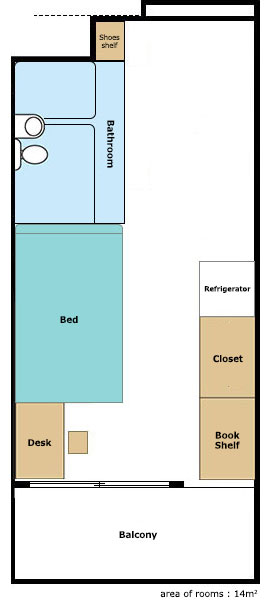 入居費用について
Fees
Entrance Fee

No Entrance Fee

Deposit

JPY 48,000 (upon check-in)
*One month's dormitory fees (JPY 48,000) will be collected for the security deposit.
(The deposit will be applied to the last month's dormitory fees.)

Dormitory Fee

JPY 48,000 per month
*Electricity, gas, water, internet, and linen leasing fee are included.

Meal Cost

Meal plan not available (shared facility per unit for cooking)

Bedding Fee

Included in dormitory fees
※The above entrance fee, deposit, dormitory fee, and bedding fee are at current prices.
※ The above fees are subject to change.