施設概要
Overview
25-1 Senriyama Tsukigaoka, Suita City, Osaka 〒565-0847
Capacity: 102 residents
Residence Period: 1 year
Building: Reinforced concrete 4-story building (plus 1 floor underground)
Security: Self-locking doors, Dormitory manager is available 24hours.

Shared Facilities
※Showers equipped in the shower rooms are chargeable.(100yen/10minutes)
※Showers in the communal bath are free to use.(4pm~10pm)
Room Anemities
※ Grayed-out facilities and amenities are not available.
Example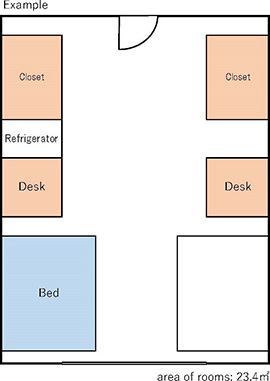 入居費用について
Fees
Entrance Fee

JPY15,000

Deposit

JPY 33,000
*One month's dormitory fees will be collected for the security deposit.
(The deposit will be applied to the last month's dormitory fees.)

Dormitory Fee

JPY 33,000 per month
*Electricity, gas, water, Internet, and linen leasing fees are included.

Meal Cost

Breakfast: JPY 250 yen Dinner: JPY 490 yen (multiplied by the number of times you actually had each month)
※ The price above is the new price which will be in effective from April 1st ,2021.
※ The above fees are subject to change.