The 11th-grade senior high school students went to Hawaii from August 25th to September 3rd, 2016. Until 2014, similar trips had been to Singapore, but in 2015 the destination for the overseas study tour was changed to this American state. This year the third visit will be mid october to november.
Our students broadened their intellectual horizons not only on Oahu, but also Hawaii Island, which is richly endowed with natural wonders such as Kilauea Volcano, an awesome starry night sky from Mauna Kea State Park, unique marine organisms and the like. Educational programs were also prepared in cooperation with the University of Hawaii at Hilo on the 'Big Island'.
Our students also enjoyed friendship program with two schools on Oahu Island: James B. Castle High School and Aiea High School. In these schools, our school gave presentations on K.U.S.H.S. and Japanese culture, while the local students welcomed us by showing us their culture and taking our students on a campus tour. The students on both sides benefited from the exchange between the two countries.
During the trip students participated in many educational and recreational activities. Among these, the field trips to local businesses and institutions were outstanding. As many as 25 companies and facilities provided a chance for our students to visit. These included, convenience stores, food producers, hotels, travel agencies, educational institutions, a farm, a pet hospital, an architectural office, a science technology institution, a radio broadcasting station and even the Honolulu City Council offices.
Our students, divided into 30 groups according to their research interests, concluded pre-trip research and created questions for their field of inquiry. They were also responsible for the initial contact with persons in charge and arranged the visit schedule. All groups were warmly welcomed and successfully conducted their interviews and research. The student groups reported their findings to the whole grade before they left Hawaii and made final presentations after they returned to school.
Other than visits to companies, our students went to Pearl Harbor. They also had the chance to enjoy Hawaiian cultural events and food, beautiful beaches, shopping, and chatting with local college students.
The 2016 trip to Hawaii was a great success thanks to the students' efforts and the support of the local people.


From November 14 to 20, 2016, we welcomed ten students from Hwa Chong Institution, Singapore. They attended 11th grade classes in the morning and went on excursions in the afternoon. During their stay, they also participated in an English debate with a team of four students from the 11th grade. The topic was "An agressive person is a better leader than good listener". The debate was held in front of an audience of 11th grade teachers and students. It was a valuable opportunity to explore opposing ideas and views on this important social issue.
At the farewell party, students from both schools enjoyed sharing each countries' traditional games. The whole program was a great success.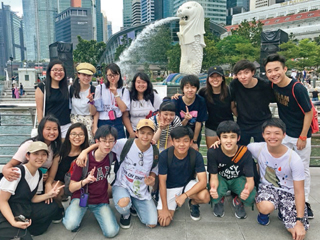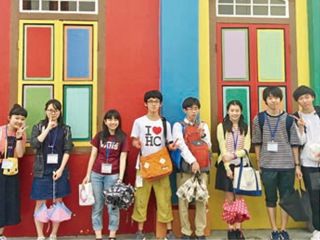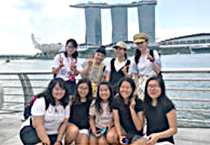 I took part in the Singapore exchange program during spring vacation. In Singapore, we mainly spent ou' days going school, sightseeing or visiting companies. In Japan, as their hosts, we took them to classes, went on an excursion with other buddies.
In Singapore, I was surprised by the enthusiasm of the students to study. We went to school and attended classes with our buddies. Classes in Singapore were different from those in Japan. Many students shared their ideas and discussed with each other. And they also exchanged their ideas with their teacher, which means students and teachers can learn from each other.
I was also impressed by the kindness of our buddies. When we stayed in Singapore, they took us to the places we wanted to go to and we bought some local foods there. Thanks to their hospitality, we could learn more about Singapore's culture. In Japan, we also had a good time with them, but I regretted that I couldn't spare much time with them and answer their questions about Japanese culture.
Finally, I think I really experienced a lot through this program. Though I had some problems, I enjoyed myself both in Singapore and Japan with my buddies.

From July 31 to August 13, 2016, 22 Senior High School students joined the Summer English Course, which took place in Cheltenham, England. In the mornings, the students studied English and public speaking at St. Edward's High School. They also paid visits to companies, stores, etc. so as to collect information for their speeches about cross-cultural issues between England and Japan. In the afternoons, they enjoyed various activities such as English conversation with native students, scone making, and sightseeing in the Cotswolds and Oxford. On the last days of the program, they enjoyed sightseeing and a musical in London. The program was a memorable one for the participants.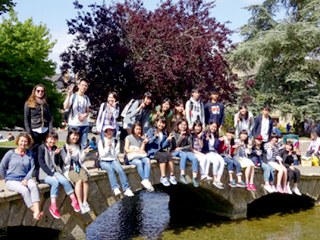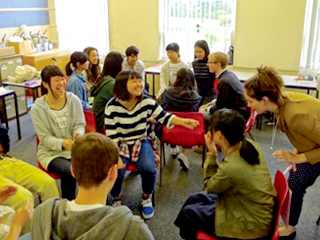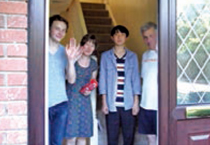 It was a very good experience for me.
It was the first time to go to England and I was able to enjoy the trip, because my host family was very kind to me. Before I met my host family, I felt very nervous, but my host family was very kind and friendly to me and they talked to me a lot, so I was able to talk a lot. On Sunday, we went shopping to buy some gifts for my family. My host family advised me what things were good to buy as gifts, so I was able to buy many things such as chocolate and tea. After we finished shopping, we took a little rest at home. After we took a rest, we played tennis. It was windy, so it was very difficult to play tennis, but it was very exciting. On the last day we spent with our host family, we held farewell party and did our speeches. After we finished the speeches, we enjoyed the party with our host families and friends. This trip was very exciting and I think this was a good experience for me. I hope to go to England again.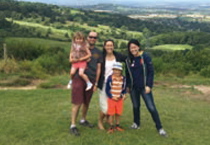 These two weeks felt so short to me. The reason was that everything was my first experience, things that I had never done and it was wonderful. I wasn't nervous because people who I met in U.K. were so nice, especially my host family. During my homestay, they gave me good experiences such as walking and yoga with my host mother and her friends, as well as a trip and errand to the fish & chips shop with my host brother.
I ran around the house and played Lego with my host brother and sister early at every morning. Also, I watched the Olympics on TV with my host parents and we were excited until late at night every day. On the first Sunday, we went up the hill. They taught me about the town where they lived. The view from the hill was amazing, something I can't see in Japan. All my experiences were wonderful. This program became a good stimulation for my study of English.