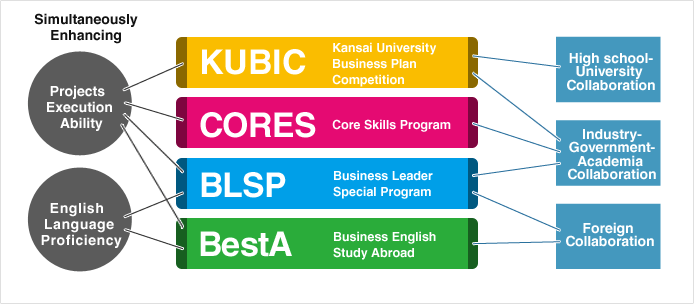 KUBIC, a nationwide business plan competition, is an official event inaugurated by Kansai University's Faculty of Commerce in commemoration of its centennial in 2006. Each year more than 700 business plans mainly from high schools and universities across Japan are entered in the competition.
KUBIC is composed of the free category for business plans freely conceived and the theme category for business plans designed on a theme proposed by corporate co–sponsors from various industrial sectors. Winners in the theme category are presented with corporate awards.
KUBIC is planned and operated by the KUBIC executive committee comprised of volunteer Faculty of Commerce students who take charge of the production of poster and other promotional goods, pre–competition information events and the planning and organization of the competition.


CORES is a program that develops students' basic skills as active members of society through the preparation of a business plan.
CORES is a regular course of the Faculty of Commerce. In this course, students wishing to apply to KUBIC are divided into small teams and prepare a business plan under the Faculty of Commerce professor's instruction. It is conducted as a second–year seminar with about a dozen professors. The completion of this course grants 2 credits required for graduation.
Each year about 150-200students participate in CORES. At each semester end, all the students attending the CORES seminars gather together for a joint presentation in which selected teams representing seminars present their business plan.


BLSP aims at reinforcing students' project execution ability, developed through KUBIC or CORES, as well as their English vocabulary and debating ability, both of which are required of leaders in the international community.
BLSP features a rich curriculum including specialized instruction of the world's highest levels taught in English by visiting non–Japanese professors, overseas workshops involving the presentation of research results in English in the United States, and industrial–academic joint projects with corporate sponsors.
Students receive thorough instruction in project research and business English from full–time instructors in small classes. They aim at levels of English language proficiency comparable to a TOEIC score of about 800 and the ability to conduct projects under actual business conditions.
The completion of BLSP grants 24 credits required for graduation. Students obtaining the prescribed number of credits are issued with a certificate; those participating in an overseas workshop are issued with a certificate from University of Washington Business School, Seattle, USA.


BestA is a small–group business English program originally conceived by York St. John University of the UK exclusively for Kansai University's Faculty of Commerce. The completion of BestA grants 4 credits required for graduation.
Participants in BestA stay with a local family in the UK for one month and attend classes the University. During this period, they engage in research into local distribution, one–day internship in a local private business or public establishment, a travel project involving planning and operating a tour, local company visits and various other projects all conducted in English. The students also hold a "Japan Evening," an event they plan and organize all by themselves to introduce Japanese culture to their local hosts.
This is an ideal program for Faculty of Commerce students since it enables them to experience firsthand an overseas business environment and improve their English–language communication skills and project execution ability at the same time.
.