Kansai University's Faculty of Commerce, which celebrated its centennial in 2006, has, as its educational objective, the training of dignified and flexibly–minded business leaders. We provide a curriculum that enables students who wish to be such business leaders in the future to realize their wishes. In an ever–changing environment, like today's business world, it is only by constantly acting that one can arrive at a stable position. Moreover, it is vital to think before acting, think while acting and act while thinking.
To train students in their ability to think and act, we offer a spectrum of learning opportunities, including traditional lectures and seminars, as well as team projects in which students design and produce results. The latter is part of the Faculty's new approach to education that we have been promoting for a few years. This resonates with our desire to serve as an innovative forum where diverse people and ideas meet, interact and stimulate each other's development.
As a concrete example, the Faculty of Commerce's "Fostering Proactive Leaders with Excellent English Skills" program, selected as one of the "Programs for Promoting High Quality University Education" for 2008 — 2010 by the Ministry of Education, Culture, Sports, Science and Technology, aims at training future global business leaders armed with high–level English language skills and project execution capabilities. In this program, students undergo intensive training in business English and project execution for their future professional activity in an international environment.
We hope to continue growing as an innovative faculty while reviewing and improving our efforts so as to always serve as an advanced model for other universities and faculties.
.


Today's rapidly changing global business environment seeks people with excellent intercultural sensibility and English language skills that enable effective intercultural communication, entrepreneurship that brings about innovation within an organization or community, and leadership that enables action while winning team members' trust.
Kansai University's Faculty of Commerce has launched the Program "Fostering Proactive Leaders with Excellent English Skills" to train future business leaders who can actively work in an international environment. This program is composed of four educational programs organized as the Faculty's official events or academic subjects in collaboration with governmental and industrial sectors, high schools, universities and overseas partners.
Participants in these educational programs will have many opportunities to apply theories and specialized knowledge acquired in their classrooms to practice, for example, entry into a nationwide business plan competition or participation in foreign language training programs and workshops held in partnership with foreign universities. Our objective is to help students, through these programs, develop into proactive leaders who can, armed with excellent English language skills and project execution capabilities, work actively in a global environment.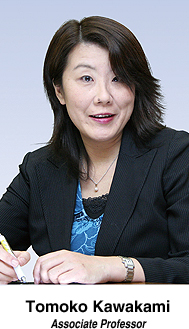 .
.