No.
69
2022.05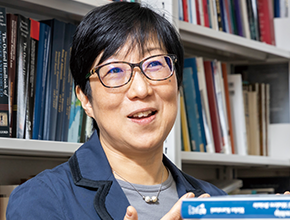 国際関係論
International Relations & International Politics
国境を越える移動
から国際政治のさまざまな現象を考える
「移動」で世界を見る
Exploring Various Phenomena in International Politics Through the Lens of "Mobilities"
Viewing the World Through the lens of "Mobilities"
政策創造学部
柄谷 利恵子 教授
Faculty of Policy Studies
Professor Rieko Karatani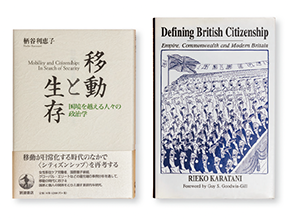 「移動と生存─国境を越える人々の政治学」(岩波書店 2016年)
「Defi ning British Citizenship: Empire, Commonwealth and Modern Britain」(Routledge 2003年)
政策創造学部の柄谷利恵子教授は、「移動」という視点から国際社会を読み解く。その目がとらえるのは、人の移動だけでなく状況や情報などあらゆるものの移動であり、実際の移動に加えて想像上の移動や仮想上の移動も含まれる。
Professor Rieko Karatani of the Faculty of Policy Studies analyzes international politics from the perspective of mobilities. Through this perspective, we are able to study the role and meaning of not only the movement of people, but also the movement of goods, and information, in actual, imaginative and virtual worlds.
「移動」を通じて国際社会の在り方を考える
専門分野は何でしょうか。
国際関係論です。一般的に、日英関係のような国家と国家の関係を論じる学問だと思われることが多いのですが、私はそうではなく、「移動」を通じて国際社会や国家の在り方を考えることをテーマにしています。具体的には、帝国形成から解体期およびその後の英国を事例として、「国籍」、「シティズンシップ」、「移動」に関する政策を扱ってきました。また、人の移動に関する国際制度の変遷も研究対象です。
「移動」というと?
移動する人や物、情報です。時間的な移動という意味で歴史的なことも含みます。

 物理的な移動だけではなく、本や映画によってその場所の情報を得る想像上の移動や、インターネットを使ったオンライン会議のような仮想上の移動など多様です。
Exploring the international politics through the perspective of mobilities
What is your area of expertise?
I specialize in international relations and international politics. Generally, people tend to think of this field as a discipline that deals with the relationships between states, such as the relationship between Japan and the United Kingdom, but I've focused on increasing interconnections across borders in today's world through the lens of mobilities. Specifically, I have dealt with laws and policies regarding nationality, citizenship, and migration with a focus on the United Kingdom. My research covers the time from the forging of the empire to that of dissolving it and to the post-Brexit era. The evolution of international regimes on peoples on the move is also a subject of my research.
What do you mean by "mobility"?
I'm referring to modern-day mobility that is characterized by the existence of various forms.

 It refers to not only the physical movement of people in the actual world, but also the movement in the imaginative world through newspaper, television images, books and movies. In addition to these two forms, the movement in the virtual world via the internet has become indispensable in our everyday life. With diversified forms of mobilities available now, even if we remain in a single location in the actual world, we are indeed "on the move" in one way or another.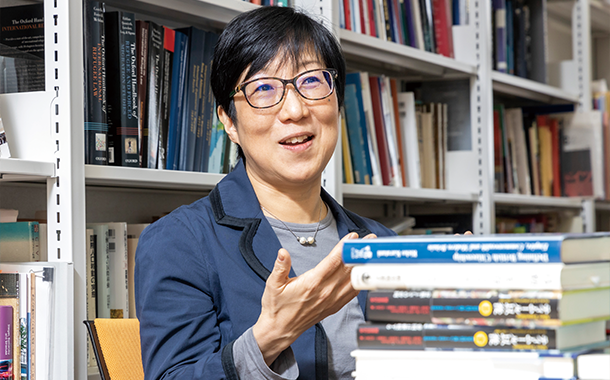 70年前に策定された難民条約
具体的な研究内容を教えてください。
国境を越えて避難する人は、難民としてとらえられます。難民条約(難民の地位に関する条約)は1951年に当時の時代背景からできました。当時の議論が残る文書を読み解き、条約作成にかかわった人へのインタビューを実施して、条約が制定された過程を調査しました。
 難民条約は「第2次世界大戦で生じた難民を保護しよう」という理念でできた政策ではありません。終戦期、戦場となったヨーロッパは荒廃していました。たくさんの人が戦地から戻ってくると、失業者であふれてしまいます。社会不安が再び高まり、また戦争が始まる恐れがあるので、今後生じる余剰人口をどうにかしようというところから難民条約の議論は始まったのです。
 案として、余剰人口を世界中に分散し、移動する全員を移民として管理する国際機関をつくる考えがありました。しかし、新たな国際機関を設立する能力があった唯一の国、アメリカにとっては国益になりそうにありませんでした。結局、アメリカの意見が多く盛り込まれた、非常に厳密な小さな制度ができました。それが現在の難民条約の起源です。
 70年前に定められた定義を、そのまま2022年の今日に当てはめているから、現状とかみ合わなくなります。難民条約の厳密な解釈だけでは、助けられる人が非常に少ない状況です。制度に関しても、作られた歴史的な背景や運用上で生じた変化を考慮しなければいけません。
The Refugee Convention established 70 years ago
Please tell me about the details of your research.
We assume that people who are forced to flee across state borders are considered refugees. In reality, the defition of a "refugee" is strictly determined by the Refugee Convention (Convention Relating to the Status of Refugees). It was established in 1951 through the process of negotiation and contestation among various stakeholders of the time. I investigated the process by which the Refugee Convention was enacted by reading archival materials and conducting interviews with those involved in its creation.
 The Refugee Convention was not necessarily intended to protect all the World War II refugees. At the end of the war, Europe was economically and socially devastated with an enormous number of unemployed people. Governments in Europe were, in addition, urgently seeking a solution to absorb people returning from battlefields after the war. If a surplus population was left unattended, they feared that social unrest would rise, and war might once again break out.
 Everyone agreed that the surplus population in Europe had to be dealt with, but disagreed how. One idea was to create an international organization that would protect the entire surplus population through international cooperation. However, the United States, the only country at that time that had the political and financial capacity, was opposed to establishing such an organization with broad mandates. The United States wanted a more practical organization that would not go againt its national interests. We ended up with the international organization whose job was restricted to the legal protection of "refugees". That is how the current Refugee Convention came to be.
 The definition of "refugees" was established almost 70 years ago. Applied rigidly in 2022, it is not adaptable to our current circumstances. The increasing number of peoples who need care and protection today do not fit into a strict interpretation of the Refugee Convention. For example, according to the Convention, those people from a conflict zone are not defined as "refugees". In a globalized world with diversified forms of mobilities, we must consider that, as the circumstances which force people to flee change, so do the definition of "refugees" and the protection regime for "refugees".
自分とは違う道が広がっていた外国人の友達
「移動」を研究テーマにした経緯を教えてください。
きっかけは大学4年生の時です。私は英文学科の学生で、通訳のアルバイトをしていました。就職先について話していると、日本で勉強をしていた香港の友達は「カナダやオーストラリアにも親戚がいるし、その辺りでも考える」と言うし、イタリア人の友達は「EU加盟国ならどの国でも就職できる」と話していました。当時は1990年代。日本では海外での就職が一般的でなかった時代です。2人には、私とは違う道が広がっているのはなぜなんだろうと思いました。国境を越えた人の動きや、関連する制度に興味を持ち始めたのはそのころです。
 そのような思いを抱きつつ、外資系の銀行に就職しました。1年間働いている間にやっぱり国際関係論を学びたいと思うようになり、退職して神戸大学法学部の3年次に編入学しました。所属したゼミが子どもの権利や外国人の権利を取り上げていて、興味深いと思い卒業論文で香港人の移動について書きました。それからずっと、移動をテーマに研究を続けています。
 大学院の修士課程は上智大学に、博士課程はイギリスのオックスフォード大学に進学しました。自分も移動しながら研究をしてきました。
研究する上で、どのような問題意識を持っていますか。
ありとあらゆるものが動いているんだ、ということですね。ルーツ(起源)とルート(経路)がありますが、私たちが生活する政治的共同体も国家もルーツとルートの両方からできあがっているのに、血縁や土地といったルーツを重要視する傾向が強いと感じます。しかし、どのように動いてきたかというルートも大切です。
 特に政治学は、土地や国家にこだわりがちです。国家を「動かないもの」ととらえて理解しようとすることが普通になっています。しかし、国家は土地と国境だけでできあがっているのではなく、人という要素もあります。人はルートを背負って生き、歴史とともに流れていきます。
 私が研究したいのは、動く人や物、状況や情報です。一般に、動かないことが「常態」で、動くことを「例外」だとみなして制度や法律が作られることが多いです。結果として、動くものをうまくとらえきれず、摩擦やひずみが生じ、こぼれ落ちる人がでてきてしまいます。そのような人にいかに光を当てていくか。このことを考えていきたいですね。
Friends from abroad with different future paths unknown to me
How did you come to choose "mobility" as the topic of your research?
It all started when I was a senior in college. I was a student of the English department, and I had been working part-time as an interpreter. When we were talking about job opportunities, my friends from Hong Kong who were studying in Japan told me they have relatives in Canada and Australia, so they were considering working in those countries, and my Italian friend told me that she could get a job in any EU member state. That was in the 1990's. It was a time when overseas employment was not common for Japanese people. I wondered why my friends from abroad had different paths that I did not have. It was around that time that I became interested in the movement of people across borders and the idea of mobility.
 After graduating from a college, I found a job at a foreign-affiliated bank in Tokyo. After working there for a year, I decided that I wanted to study international relations, so I left and was admitted to the Faculty of Law at Kobe University as a third-year student. A seminar I attended covered children's rights and the rights of foreigners. I found it interesting and wrote about Hong Kong immigrants in London in my graduation thesis. Since then, I've been researching the subject of migration and mobility.
 I went on to Sophia University for my master's degree and University of Oxford for my doctoral degree. I have conducted research while on the move myself, too.
What are issues of interests you are pursing while you conduct your research?
I take the perspective of "mobilities" as the key for understanding our world. It is said that we are influenced by our roots (origins) and routes (paths). I feel there is a strong tendency to place importance only on roots, such as blood relations and land, even though both the political communities and the states in which we live are formed on the basis of both roots and routes. We need to pay more attention to the implications of the routes, when we aim to understand how we live today.
 In particular, the discipline of international relaions tends to treat the states as rigid and static. It is common to regard them as something immobile. However, a state is not just made up of land and borders. It is also made up of people. People live with their routes and constitute history.
 What I want to study are the diversified forms of mobilities and their roles and implications for our everyday life. As I said, people, goods, and information are all on the move, not only in the actual world, but also in the imaginative and the virtual worlds. In general, laws are often created under the assumption that immobility is the norm and that mobility is the exception. As a result, people may not be able to properly understand how mobility is utilized and what impact it brings upon our lives today. How do I shed a light upon the discrepancy between what is seen as immobile by law and what is actually mobile in today's world, taking the perspective of mobility into consideration ? I want to continue engaging with this topic.



柄谷教授の専門演習風景
Seminar by Professor Karatani




柄谷教授の専門演習風景
Seminar by Professor Karatani
移民か難民か
こぼれ落ちる人の例として、どのような人たちがいますか。
2016年ごろ、シリアや南スーダンから地中海を渡り、ヨーロッパに向かう人がたくさんいました。その途中、地中海で多くの人が亡くなっています。その人たちは移民か難民かという議論がありました。制度上、庇護申請をして初めて難民と認められるため、当初は移民と呼ばれていたんです。しかし、「移民危機」という報道を目にすると、経済的な理由で自分たちの職を奪いに不法な人がやってくるというイメージを持ってしまいます。このような認識と実態のずれを避けるため、フランスのル・モンド紙などは移民危機とは呼ばないようにするなどの対応をしました。
 これは、移動する人々をどのように呼ぶかによって対応が変わる例の一つです。移民と呼ぶことによって、助けられない、もしくはネガティブな感情でとらえられてしまう人たちがいました。
移動の手段は激しく進化しています。研究の重要性が増しますね。
物理的な移動手段もそうですし、インターネットの発展に伴って情報を移動させる技術も進んでいます。コロナ禍で、オンライン会議という新たな移動手段が浸透しました。激しく変化する中で、新たな手段に対応できる人と対応できない人に分かれています。財力や高い技術を持つ人はたやすく国境を越えて移動できますが、そうでない人はつらい思いをすることがあります。今後はさらに、動くものと動かない制度との間で生じるゆがみに焦点を当てて研究していきたいと考えています。
Immigrants or refugees?
What are some examples of the discrepancy between the legal categories and the political world?
Around 2016, many people from Syria and South Sudan, for example, attempted to cross the Mediterranean Sea, heading for Europe. On the way, quite a few lost their lives in the Mediterranean. There was a heated debate about whether they were immigrants or refugees. According to the Refugee Convention, they are recognized as refugees only after applying for asylum, so they were called immigrants at first. When people in Europe read newspaper articles with the title of "immigration crisis", they pictured illegal people from the Middle East and Africa coming to steal their jobs for economic reasons. In reality, most of them would have been accepted as "refugees", once they had claimed asylum. Leading media companies such as the French newspaper Le Monde thus cautioned this gap between what people perceived and what reality was, and stopped calling it an "immigration crisis".
 This is one example of how we respond differently depending on how we labeled people on the move. When they were labeled immigrants, they were immediately associated with illegality and perceived in a negative light.
The means of mobilities are evolving dramatically. This makes your research all the more important, doesn't it?
Not only is this true for physical movement in the actual world, but the technology for information has also developed along with the Internet. Due to the COVID-19 crisis, online meetings have proliferated, and mobility in the virual world has become indispensable. In a rapidly changing world, there are two types of people: those who can command the diversified forms of mobilities and those who cannot. Wealthier and more skilled people can easily move across borders in one way or another, but others may find it more difficult. In the future, I would like to focus my research on the strain that emerges between those people with a high-mobility-class position who can act like "mobility masters" and those with little skills on mobility who might end up like "mobility outcasts".