About ORDIST
ORDIST promotes flexible and dynamic research activities beyond
the departments within the university.
Research Departments
N
New material, functional element and production technology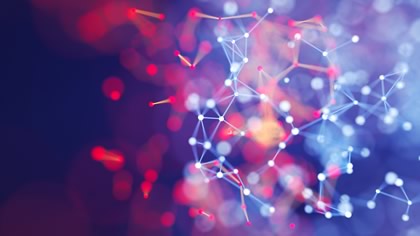 Our activities are the design/synthesis of new substances at the molecular level, the development of high-functional new materials, and the development of elements/devices/systems by combining/integrating such new materials with machines. Our ultimate goal is to productize them and benefit the society. One of the keywords of our department is nanotechnology. In this field, research is conducted in significantly different direction in scale and method: for example, top-down approaches from bigger things to finer things, and bottom-up approaches by self-organized of atoms/molecules level. It is expected that new innovations will be created by organically combining ideas and approaches of these various perspectives, beyond the boundaries of existing fields of research. To realize such a goal, in our department, we will promote the creation of new value by implementing interaction and information exchange between researchers in various fields and by integrating wisdom and knowledge.
I
Information, communication and electronics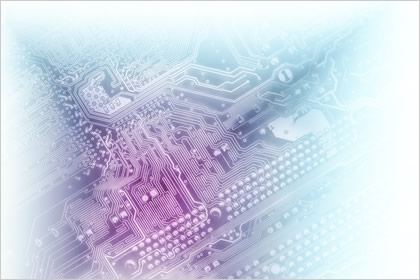 Our department aims to conduct a wide range of research and development from basics to applications regarding information processing and communications systems used for information technology (IT) as well as the software and hardware that enable them. In the basic areas, we are pursuing innovative systems based on completely new ideas by analyzing algorithms and systems from the mathematical and theoretical perspectives, which are the foundations of information processing. As for application research, we will conduct research and development for various application systems that are efficient and highly function-al in terms of engineering and also useful to society. We will proceed with the research by planning and implementing projects based on mutual collaboration between researchers in related fields and their new approaches. Researchers' inspiration for each other enables us to expect the creation of superior approaches. We will leverage such new approaches to develop technologies that lead to new breakthroughs in the IT field.
B
Biotechnology, life, human sciences and robotics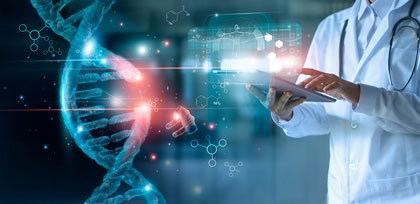 A living organism is an extremely elaborate control system having the purpose of living, with various molecules interacting with each other. Our department analyzes and utilizes the unique structures, physical properties, and functions of living organisms and their constituent molecules. Meanwhile, we analyze how living spaces and environments affect human life and mental activities, and make efforts to develop, design, and use new functions in association with audio-visual information processing and robots. Our department solves various problems related to human life and human beings by physical/chemical/biological approaches, sometimes using interdisciplinary perspectives from the social sciences and the humanities. This means we are working on a variety of research and development activities and thus leverage the outcomes for health, medical care, welfare, sports, and various industries.
E
Environment, energy and society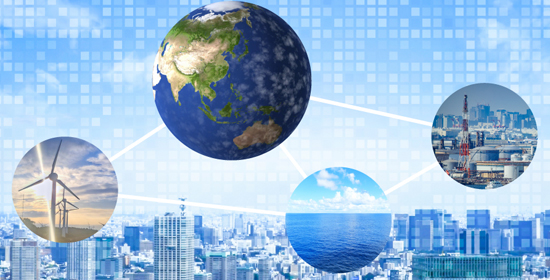 Aiming at the protection of the global environment and the realization at a sustainable society, our activities cover a diverse and wide range of researches. Energy-related technologies (such as research on energy-saving processes and equipment, fuel cells, and lithium batteries), environmentally-friendly production technologies, CO2 control technologies, and recycling technologies (such as the effective use of food waste, brewer's grains and soy sauce cake). In addition, researches like urban renaissances, human-environment relation, safety engineering, the maintenance and management of social and artificial infrastructure facilities, disaster prevention and mitigation systems for society and cities, and engineering ethics are also our department's mission. Our registered researchers' fields cover almost all fields of the study of the departments of three faculties for science and technology and the Graduate School of Science and Engineering, and even the Faculty of Informatics and the Faculty of Societal Safety Sciences.
Research Centers
Collaborative Research Center of Engineering, Medicine and Pharmacology (CEMP)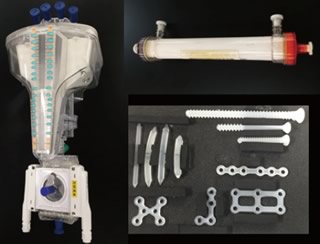 Today in Japan, we rely on imports for a lot of medical equipment and instruments, and it is hoped that we can realize a society where everyone can lead a safe and healthy life and reduce the physical and economic burdens of both physicians and patients while holding total medical expenses down. Realizing such a society requires further collaboration between medical science / pharmaceutical science and engineering to develop next-generation advanced medical technologies and equipment that can be competitive in the global market. Kansai University has generated various outcomes by conducting joint research/projects and the like with its neighbors such as universities' faculties of medicine and pharmaceutical sciences, medicine-related research institutions, and medical devices manufacturers.
CEMP was established to proactively promote such medical-engineering-pharmaceutical collaborative research and has played a core role. Our ultimate goal is to contribute to the society by commercializing the outcomes from joint research as new methods of treatment, medical device systems, and the like, working with venture capital firms and medical devices manufacturers.
CEMP plays a key role in the following project :
Research Center for Regional Revitalization (RCRR)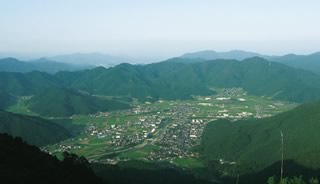 In terms of the revitalization and redevelopment of regional communities with sustained continuity, the RCRR continues its research activities while acting as a research and implementation base by collaborating with people from various backgrounds, including local residents and administrative officials, from the perspective of the revitalization of collective living environments. We carry out research and implementation for regional revitalization from the standpoint of design, while integrating the existing fields of engineering centering on construction and civil engineering, the social sciences including public policy and public economics, and the humanities including geography and climatology and creating new fields. RCRR is also forming into a collaborative research and implementation base with people outside the university, by means such as managing the Kansai University TAFS (Tamba Aogaki Field Studio) Saji Studio* and continuing a project under the MEXT-Supported Program for the Strategic Research Foundation at Private Universities called "Technology Development Research on Approaches to the Reorganization (Renaissance/Rebuilding) of Housing Complex Danchi".**
*Awarded "Hyogo Prefecture, Human-Sized Town Development Award" and "Award for Distinguished Service for Town Development from the Ministry of Land, Infrastructure, Transport and Tourism"
**Awarded "Achievement Award from the Association of Urban Housing Sciences of FY 2016"
Center for Socio-Spatial Information Science (CSSIS)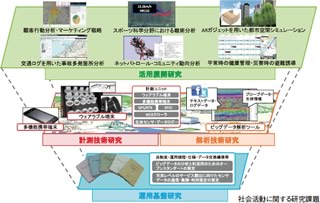 With the development of highly sophisticated measuring instruments and associated analysis technologies, applications using data, information, and new findings related to society and spaces are attracting growing attention. Under such circumstances, CSSIS was established in order to work on research on technologies related to social infrastructure that are useful in the field of the maintenance of social infrastructures and disaster prevention/disaster mitigation; and technologies related to social activities that are useful for health management, assessments of situations, strategic analysis, and other situations in everyday life and the area of sports, in a cross-sectional and comprehensive manner.
CSSIS develops socio-spatial information services to provide new findings by applying socio-spatial information-related measurement and analysis technologies to various fields. Moreover, in order to broadly spread the outcomes, we strongly promote industry-academia-government coordination by establishing a cooperative system with a wide range of people and institutions, including researchers inside and outside the university and people from private enterprises and public agencies.
Strategic Research Center for Science and Technology (SRCST)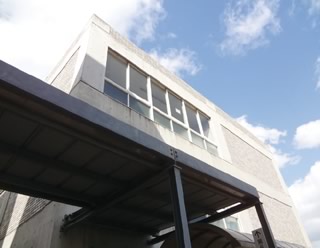 SRCST was established in 2012 to serve a platform for ORDIST's medium- and long-term strategic research plans. ORDIST had led research at the High Technology Research Center, Frontier Sciences Center, and Business-Academia Collaboration Research Center. These centers' research were selected as part of the Program for Promoting the Advancement of Academic Research at Private Universities (the High-Tech Research Center Project, Academic Frontier Promotion Project, and Social Collaboration Research Promotion Project) by MEXT. These projects finished at the end of FY 2011; from 2012, SRCST is conducting large-scale delegated research projects. Not only projects for the MEXT-Supported Program for the Strategic Research Foundation at Private Universities (finished at the end of FY 2019), but also for external collaborative research for the medium to long term, SRCST plays a role as a comprehensive center that will provide a new research platform at ORDIST.