An introduction to our Muse Learning program, library - based learning program, and our ICT environment.


How do you think? What do you think?
Learning how to think competent in all situations
MUSE learning is an education program unique to Kansai University Elementary School. For this program, about 12 lessons are allocated per year, in which children develop thinking skills by tackling tasks that require them to think competently in various situations. Through this system, students in the first to sixth grades systematically learn about how to approach the problems they face and how to use thinking tools to solve them.



Multiple approaches to issues
Learning how to make full use of six types of thinking tools
Young thinkers learn six major thinking skills (comparison, categorization, association, etc.) by using thinking tools. For example, students use thinking tools, such as a Venn diagram and an X-chart, to organize and visualize their ideas on a specific topic. They also share their written ideas with others in class, through which they learn thinking skills.


Consideration on how to approach learning
Working with teachers to set learning goals (Rubrics)
Children work with their teacher to set a learning goal to achieve in each lesson. As learning progresses, children tend to focus more on "research." To prevent this, rubrics are used to redirect learning based on the previously-set goals and to promote learning with an emphasis on "how to think." Students are encouraged to work toward their goals by sharing specific goals with their teachers.




Aiming to be an effective thinker
Developing thinking skills through repeated learning
Thinking skills cannot be acquired easily or quickly. It is important to repeatedly put into practice the thinking skills that are learned and to apply them to other subject areas. From this perspective, we have introduced various educational programs with an emphasis on the development of thinking power in many subject areas, in addition to the MUSE learning program. To ensure an integrated education that fosters logical thinking, we have designed special subjects to further develop our junior and senior high school students' reasoning ability.




Aiming to establish a solid foundation for exceptional academic abilities
Reading is the foundation for all learning and the development of thought. We place great emphasis on reading education. As part of such efforts, we have introduced a library-based learning class once a week. The class focuses on two areas: reading skills and information skills. In the class, children, from the first grade, engage in various activities, including engaging in discussions after reading books to expand the range of reading. They are also encouraged to use encyclopedias, dictionaries, almanacs and white papers to collect information, through which they learn how to use a table of contents and an index, and develop the necessary skills to reach the information they need.
Making optimal use of libraries
Kansai University Elementary School has two libraries: "Hatena-kan Library" and "Waku-waku-kan Library." The Hatena-kan Library (information library) contains encyclopedias, newspapers and other publications necessary to satisfy intellectual curiosity, as well as PCs that provide access to a wide variety of databases. The Waku-waku-kan Library (library for reading) contains a broad range of books to develop an interest in reading. It also has a section with a floor heating system, where children can listen to stories or read books in a relaxed manner. We nurture children's rich sensibility and intellect by making extensive use of our fully-equipped learning environment.

Children set reading goals and keeps track of their reading, thereby creating a habit of daily reading.
In addition to providing rich opportunities for children to aural readings, various events are held to awaken children's interest in books.
Children are encouraged to read many different kinds of books, both in the original language and the translated version, according to their stage of development, ranging from science to biographies, fairy tales, and novels.

First graders learn how to use an encyclopedia written for children, and those in the second grade or higher learn how to use a table of contents and an index.
In the Hatena-kan Library, various thinking tool forms completed by children are posted. Blank thinking tool forms are also available so that children can use them freely.
In integrated study periods and in various other subjects, children are given opportunities to use picture books, encyclopedias, databases, etc.


ICT
(Information and Communication Technology)

is utilized to develop creativity, the power of thinking, and expression.

For Kansai University Elementary School students, computers are essential tools, just like their notebooks and pens. They use iPads and PCs actively in class to develop their ability to collect and organize information, critical thinking, creativity, and expressive power. We make best use of ICT to encourage children to use such digital devices not merely to collect information but also to spread and share ideas and information.

Information equipment has been installed for common use: 40 iPads for first and second graders, 40 laptop computers installed on the 3rd and 4th classroom floor, and the 5th and 6th classroom floor.

Children start to use information equipment from the first grade. Each student manages information using an ID and password.

Third to sixth graders need to purchase an iPad for personal use, which is used to collect information and deliver presentations in class using wireless LAN (WiFi).

In addition to learning how to use information equipment to collect information, children learn rules and manners associated with information and technology.


Each child's school life and study-related records are stored as digital data, which is used for the further promotion of learning.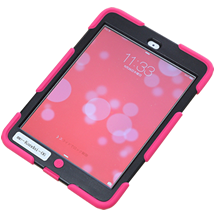 The Apple Distinguished School is a recognition of educational institutions that are making innovative use of technology. Kansai University Elementary School has been recognized as an Apple Distinguished School 2021-2024 for a school environment that encourages students to learn through curiosity, and for its efforts to enhance their thinking skills.
※For more information about the Apple Distinguished School, please visit Apple's website.