Admission Guide
Kansai University Japanese Language and Culture Program Bekka is a one year-program( * )in principle. The purpose of this Program is to provide instruction in the Japanese language, Japan studies, and Japanese culture to international students who intend to proceed to the next stage of education as a student at Kansai University or at other Japanese universities after passing the entrance examination.
*The period of study is one year in principle, but can be extended for another year with permission from the Center for International Education.
Outline of entrance examinations (2019)
Student Enrollment
100 students (Total for April Admission and September Admission)
Qualifications

Students who are foreign nationals and meet the following two requirements:

(1) Those who have completed 12-year curriculum of schooling in their home country or expect to complete their education before entering the Japanese Language and Culture Program Preparatory Course (Bekka) or those who are of an eligible age and have been deemed to have an equivalent educational background or higher than requirements stipulated above. (e.g., Person who has a "Certificate for Students Achieving the Proficiency Level of Upper Secondary School Graduates in Japan").
(2) Those who have studied Japanese language for more than a year (more than 300 hours) or have Japanese language proficiency equivalent to Japanese-Language Proficiency Test (JLPT) N4 level. at the time of application for the course.

*In principle, those who have studied for more than a year at an educational institution in Japan at the time of entry into this course are not allowed to apply.

Entrance Application Fee
JPY20,000
Selection Procedure
Reviewing application materials and the interview
How to become a Bekka student
Procedure for becoming a Bekka student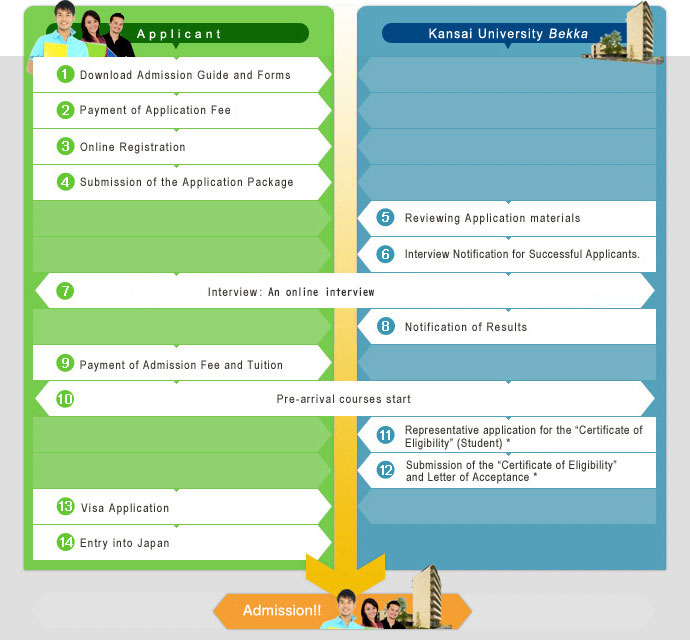 *If the applicant already resides in Japan, procedures (11), (12) are not necessary.Applicants must apply in person at the Immigration Bureau.
Schedule from application to registration (2019)
 
April Admission
September Admission
Entrance Application Fee Deadline

Sept.7, 2018~ Oct.1, 2018

Apr.5, 2019~May, 1, 2019

Online Registration Deadline

Sept. 7,2018~Oct. 1, 2018

Apr. 5, 2019~May 1, 2019

Acceptance of Application Packages

Must be received 
by Oct. 1, 2018

Must be received 
by May 1, 2019

On-site Interview
(for applicants residing in China only)

Oct. 27, 28,2018

May 25, 26, 2019

Notification of Results

Mid. November, 2018

Mid. Jun, 2019

Admission Fee and Tuition Deadline

Late November, 2018

Late June, 2019

Visa Application Deadline

February, 2019

August, 2019

Entry into Japan

Late March, 2019

Late September, 2019

Entrance Ceremony

Early April, 2019

Late Sept. 2019
Admission Data (from the last 2 years)
|   | Applicants | Successful Applicants |
| --- | --- | --- |
| April 2017 Admission | 77 | 62 |
| April 2018 Admission | 62 | 52 |
| September 2018 Admission | 94 | 83 |