Curriculum
Designed to prepare specialists in the areas of natural disaster management and man-made disaster management, the safety science curriculum incorporates an interdisciplinary educational approach requiring studies in the natural sciences, social sciences and humanities.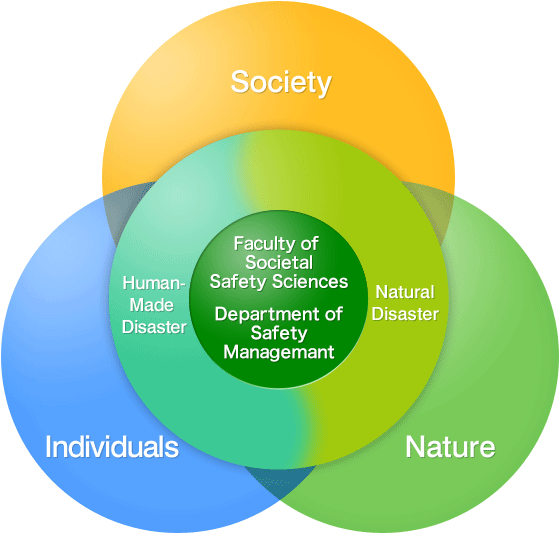 Modules of Human-Made Disaster
Management
The course is designed to develop leaders who can specialize in the field of safety and security for various industries. Students are expected to obtain a broad knowledge of man-made disaster management, centering on potential accidents that may take place in today's industrial society. It includes prevention and mitigation of disasters/ accidents, workplace safety, human error, risk management, corporate social responsibility (CSR), and safety-related legal systems.
Modules of Natural Disaster
Management
The course aims to train students to serve an active role in the local community as specialists in the field of preventing and mitigating damage during natural disasters. Students are expected to acquire risk management skills by analyzing the mechanism of natural disasters and deepening their knowledge of the roles and responsibilities of public administration, self-responsibility, public policy, crisis management, natural disaster damage prevention and mitigation, assistance to disaster victims, and reconstruction of devastated areas.
The Faculty of Societal Safety Sciences is committed to developing students who will become dedicated specialists and leaders in the area of safety science.
Basic Programs
First Year
Second Year
Third Year
Fourth Year
Compulosy Subjects

Introduction to Safety Science I
Introduction to Safety Science II
Practicum in Information Technology

 
 
 
Electives

Mathematics I for Safety Science
Mathematics II for Safety Science
Statistics for Safety Science
Introductory Course in the Japanese Notin of Safety
Legal Systems for Safety in Society
History of Technology and Soceity
Contemporary International Society
Theory of Legal Systems
Public Administration
Introduction to Economics
Introduction to Business Management
Modern History
Contemporary History
World Geography
Philosophy
Introduction to Logic
Ethics
Psychology
Social Psychology
Introduction to Physical Science
Introduction to Geophysical Science

 
 
 
General Education
 
 

Health-Sports Science Activity a
Health-Sports Science Activity b
Health-Sports Science Activity c
Study of Health-Sports Science

Career Design II (Job and Working World)
Career Design III(Career Decision Making)

Constitution of Japan
Career Design I (Work Career and Life Career)
Takatsuki City and Kansai University

Foreign Language

English Ia・Ib・IIa
Practical English Ia
German Ia・Ib・IIa・IIb
French Ia・Ib・IIa・IIb
Russian Ia・Ib・IIa・IIb
Spanish Ia・Ib・IIa・IIb
Chinese Ia・Ib・IIa・IIb
Korean Ia・Ib・IIa・IIb

English IIb・IIIa・IIIb
Practical English Ib

English IVa・IVb
Practical English IIa・IIb

 
Subjects for Foreign Students

Japanese Ia・Ib・IIa・IIb・IIIa・IIIb
Contemporary Japan I
Contemporary Japan II

 
Advanced Programs
First Year
Second Year
Third Year
Fourth Year
Programs Specialized Core Subjects

Natural Disaster Case Studies
Human Activity and Ecology
Industrial Products and System Safety
History of Structures in Urban Areas
Disaster Mitigation and Safety Education
Introduction to Social Research

Idee of ANZEN (=Japanese Notion of Safety)
Administrative Law for Safety and Security
Local Government Law
Science and Technology for Society
Accident and Legal Responsibility
Regulatory Compliance
Public Policy
Administration of Disaster Mitigation
Business Law for Safely and Security
Environmental Law Policy
Crisis Management
Local Finance Law
Economics of Risk and Disasters
Public Utility Economics
Transportation Systems
Insurance
Property and Casualty Insurance for Transport Safety
Risk Management
Crisis Management and Leadership
Sociology of Risk and Disasters
Risk Perception
Risk Communication
Research Methods for Behavioral Sciences
Risk Assessment Methods
Environmental Risk
Programming and Quality Management
Information Security
Public Health Policy
Business Continuity Planning
Methods of Social Research
Disaster Journalism
Corporate Finance

 
 
Modules of Human-Made Disaster Management
 

Consumer Safety Law
Criminology
Disaster Psychology
Human Errors
Mental Health
Crowd Safety
Food Safety
Safety of Medical Care and Pharmaceticals
Accident Investigation
Plant Design and Operation Safety
Laborers Safety and Health
Infectious Disease Control and Management

 
 
Modules of Natural Disaster Management
 

Urban Design for Disaster Mitigation
Earthquake Disaster
Problems of Global Environment
Hydrosphere Disaster
Geodisaster
Earthquake Resistant Structure
Logistics
Disaster Response and Recovery
Fire Disaster
Environmental Policy
Disaster Information

 
 
Integrated Programs
First Year
Second Year
Third Year
Fourth Year
Integrated Programs

Practicum in Mathematics
Introductory Seminar

Practicum in Social Safety
Practicum in Statistical Analysis I
Practicum in Statistical Analysis II
Practicum in Geographic Information System
Practicum in Disaster Simulation
Practicum in Disaster Survey
Accident Investigation Seminar
Basic Seminar

Practicum in Social Research I
Practicum in Social Research II
Practicum in Product Design
Practicum in Behavioral Sciences
Advanced Seminar
Seminar and Practicum in Safety Science (Topic)