Satoko Miyahara takes fourth place at the PyeongChang Olympics
Kansai University Ice Skating Club member Satoko Miyahara, a second-year student in the Faculty of Letters, placed fourth in the Women's Singles at the PyeongChang 2018 Olympics, held on February 21 and 23 in South Korea.
Miyahara scored 75.94 in the short program and 146.44 in the free program, with a combined score of 222.38, a personal best, however just finishing out of medal contention. "The Olympic Games was a dream world and was beyond my imagination. I fully enjoyed it. Although I feel disappointed about the result, I did everything I could. This experience made me think about pursuing a higher goal. I simply can't express in words how much I appreciated your support," Miyahara said with her eyes shining.
Yu Nakamura, a third-year student in the Faculty of Policy Studies, remarked after watching his teammate's performance: "I was moved to see her skating without making any mistakes even though she had just recovered from her injury. I want to congratulate her when she comes back."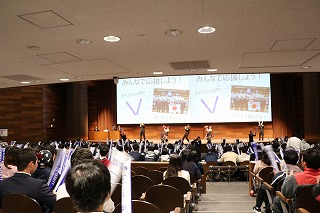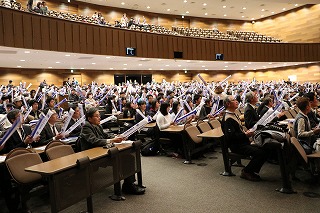 KU students at public viewing
March 02, 2018 09:38 AM UP