Daisuke Takahashi Won Bronze and Nobunari Oda Finished in Seventh Place in the Vancouver Olympics
Daisuke Takahashi (Graduate School of Letters), Kansai University Ice Skating Club member, won a bronze medal in the men's figure skating in the Vancouver 2010 Olympic Winter Games on February 19, 2010, Japan time.
He earned a total score of 247.23 points, becoming the first Japanese man to win an Olympic medal in figure skating.
Nobunari Oda (senior, Faculty of Letters) came in seventh place with a score of 238.54 points in his first appearance at the Olympics.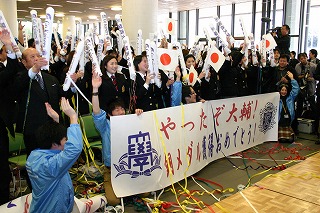 February 23, 2010 10:29 AM UP