Lecture on understanding and supporting children and households on social assistance
On June 8, the Faculty of Health and Well-being held a special lecture at Sakai Campus, as part of the regional collaboration programs between Kansai University and Sakai City running since 2016, aimed at learning about children who need social assistance and how to support the recovery and growth of those children.
The number of cases of child abuse has been increasing year by year, with the total number dealt with by child consultation centers and municipalities during the last decade exceeding 200,000 cases. Family poverty and difficulties maintaining fundamental living standards such as sanitation are considered background factors.
Lecturer Takashi Masuzawa, a clinical psychologist, explained that inappropriate family circumstances such as child abuse affect the children immeasurably. Abused children are likely to have distrustful feelings toward others and also develop the symptoms of PTSD. Children's absence during night hours, disappearance from the home, and truancy often result from child abuse. What communities can do for them is to prepare safe places to stay, provide opportunities to meet trustworthy adults other than their family members, and to offer help. Dr. Masuzawa claimed that support from communities, not just from guardians and families, is indispensable for children to develop their mental and physical health.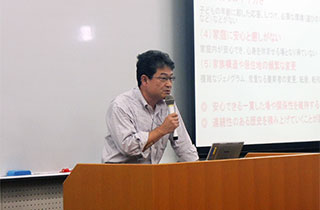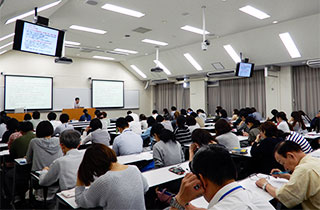 July 03, 2017 01:50 PM UP